Our ESG performance is strong
The following third parties assess our sustainability performance and make the assessments on their own initiative; Sanoma is not responsible for their views.
| | | |
| --- | --- | --- |
| Rating | 2020 | 2021 |
| MSCI ESG Rating Index | AA | AA |
| Sustainalytics Risk Rating | 11.5 | 9.8 |
| ISS Corporate solutions ESG Rating | D+ | C- |
| CDP Climate Change rating | C | B |
| CDP Forest rating | D | B |
MSCI ESG Rating Index: AA

In 2021, Sanoma received a rating of AA (on a scale of AAA-CCC) in the MSCI ESG Ratings assessment. This means we are leading our industry in managing the most significant ESG risks and opportunities. MSCI ESG Rating aims to measure a company's resilience to long-term ESG risks. MSCI Inc. is one of the world's largest providers of ESG Indexes.
Sustainalytics Risk Rating: Negligible risk 9.8
In 2021, Sanoma received a risk rating of negligible risk 9.8 (on a scale of negligible 0-10, low 10-20, medium 20-30, high 30-40, severe 40+) from Sustainalytics. Sustainalytics evaluates companies according to their exposure to ESG risks and how well they are managed relative to peers and across sub-industries. Sustainalytics, a Morningstar Company, is a leading independent ESG and corporate governance research, ratings and analytics firm that supports investors around the world.
ISS Corporate solutions ESG Rating: C-
Sanoma Corporation has received an ISS QualityScore rating of "3" in ISS ESG's Governance category in February 2022. This rating is a detailed assessment of the sustainability impact of operations based on risk exposure and an assessment of management approaches regarding material sustainability risks along the entire value chain. ISS Corporate Solutions (ICS) evaluates companies on corporate governance, executive compensation, and sustainability.
Nasdaq ESG Transparency Partner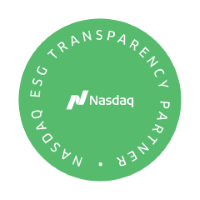 Sanoma shares (SAA1V) are traded on Nasdaq Helsinki. We aim to transparently report on our ESG metrics and as a result, have been certified as a Nasdaq ESG Transparency Partner in 2021. This certification is a signal of market transparency and raising environmental standards.
CDP Climate Change and Forest rating: Score B

Sanoma was awarded with the third-highest score of B in the international CDP Climate Change rating in 2021. The scoring varies in a scale from A to D-. In addition, Sanoma improved its CDP Forest rating from C to B. Sanoma discloses its climate change impacts through CDP, a global non-profit that drives companies and governments to reduce their greenhouse gas emissions, safeguard water resources and protect forests.
Upright impact analysis: Strong positive net impact
Sanoma measures its Net impact using Upright Project's net impact model. The model measures company's positive and negative impacts on the society, knowledge, health, and environment. Upright enables smarter decision-making for investors, companies and governments by quantifying the net impact of companies. Sanoma's net score is 2.1 with net positive scores on society and knowledge and slightly negative net scores on health and environment.