Our strategy focuses on six themes
To improve our sustainability efforts, we actively cooperate and engage with our stakeholders. Our strategy focuses on six themes, in which we have the greatest impact on society:
Inclusive learning
Sustainable media
Trustworthy data
Valued people
Vital enviroment
Responsible business practices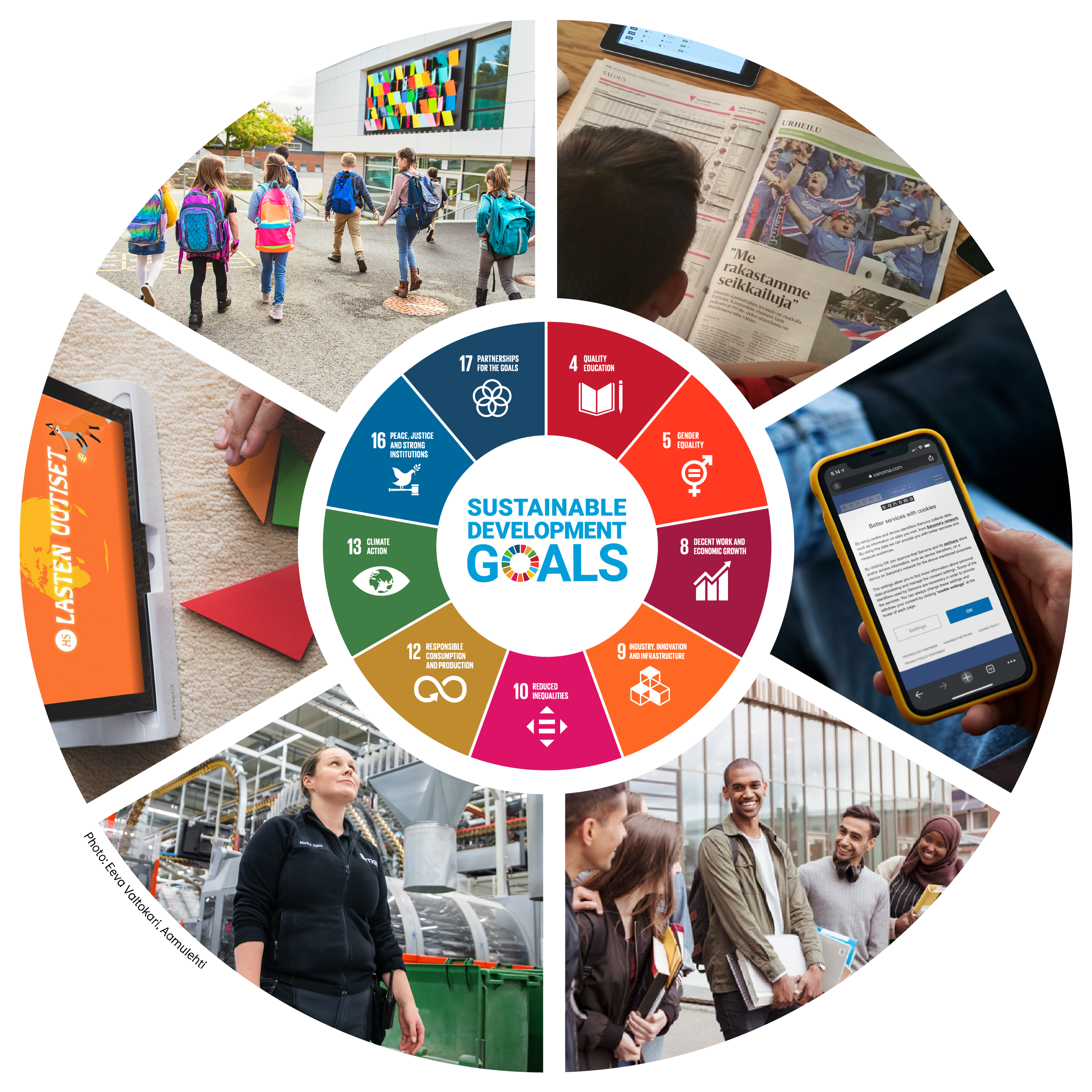 We implement the UN Sustainable Development Goals
The seventeen United Nations (UN) Sustainable Development Goals (SDGs) are the blueprint for achieving a more sustainable future for all. They address several common, global challenges the world is facing. We have identified nine of the SDGs as most relevant for our business based on where we have the greatest impact. These nine SDGs are embedded into our Sustainability Strategy.
A signatory of the UN Global Compact
Sanoma is a signatory of the worlds largest corporate responsibility initiative, UN Global Compact. The ten principles of the UN Global Compact related to fundamental responsibilities in human rights, labour, environment and anti-corruption are embedded in the Sanoma Code of Conduct.
We also commit to the Universal Declaration of Human Rights, the International Labour Organization's Declaration on Fundamental Principles and Rights at Work, the Rio Declaration on Environment and Development, and the United Nations Convention Against Corruption.
Climate action aligned with the Science Based Targets
In 2021, we committed to setting climate targets aligned with the Science Based Targets initiative to future-proof our growth strategy and ensure that our plans for carbon reduction meet the level needed to limit global warming in line with the Paris Agreement.
We support the Task Force on Climate-related Financial Disclosures (TCFD) and transparently report climate change risks and opportunities in our annual sustainability reporting.
We commit to industry shared professional principles
We also commit to shared professional principles related to media and cooperate with cooperate with several organisations.
Learn more about our stakeholder cooperation