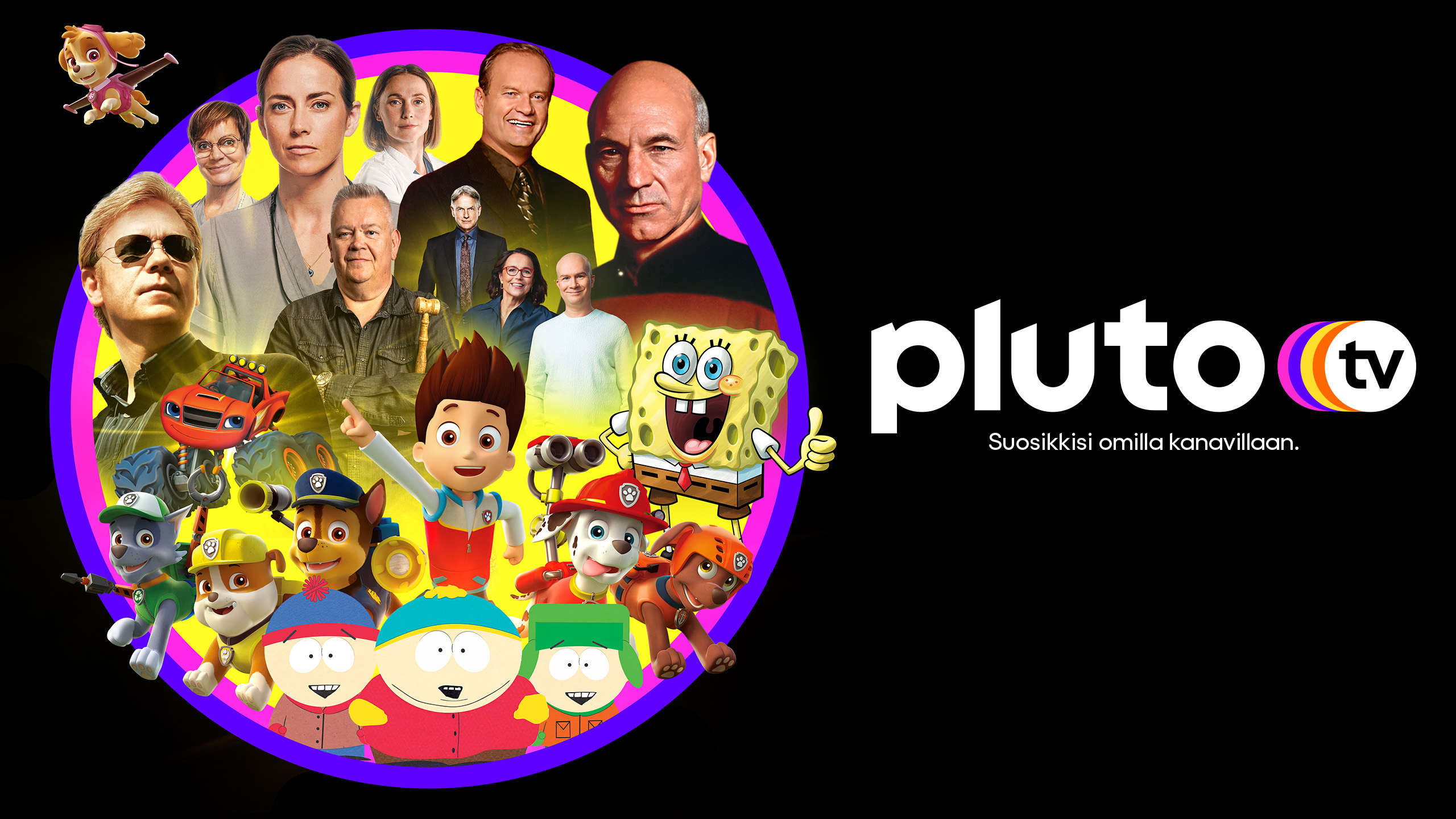 The Free Ad Supported Streaming Television bring to Finland incredible content including – Frasier, Paw Patrol and Syke.
Ruutu, the most important AVOD streaming services in Finland today launches as part of its offer a Pluto TV branded zone dedicated to the leading FAST service in the world, with over 35 new channels exclusive on Ruutu.
All content can be viewed completely free of charge. Streaming channels have grown in popularity around the world in recent years, and Pluto TV, launched jointly by Paramount Global and Sanoma in Finland, is the largest player in the market.
Pluto TV is the home of movies, kids, reality and much more – and the lineup of channels in Finland includes:
Thematic channels: CSI Miami, South Park, Frasier, Paw Patrol, Beverly Hills 90210 and Star Trek: Next Generation


Kid's channels: Paw Patrol, Spongebob, Blaze, Pluto TV Kids, Pluto TV Kids jr


Movie channels: Pluto TV Movies, Pluto TV Comedy, Pluto TV action


Series channels: Beverly Hills 90210, CSI Miami, Cheers, NCIS, Melrose Place, King of Queens, Spin City, Fraiser


In addition to international channels, Ruutu offers streaming local channels from Nelonen Media's favourite programmes. Starting from Thursday, there will be separate round-the-clock channels for Syke, Huvila & Huussi and Suomen Huutokauppakeisari.
"We are very happy to launch Pluto TV in Finland with a branded section on the Ruutu platform. Ruutu has been a great partner for Paramount for years and it is a natural next step for us to launch Pluto TV bringing our leading free streaming experience to the Ruutu users. We are sure our great line up of free channels will attract a lot of both existing and new users to the Ruutu platform and be a great addition to the Sanoma advertising product", says Jesper Dahl, GM of Pluto TV in the Nordics.
In addition to the Pluto TV channels launched today, Ruutu offers free streaming channels such as Nelonen, Jim, LIV and Hero, as well as international news channels Deutsche Welle, Bloomberg TV and France 24. In total, Ruutu offers more than forty free streaming channels, with a diverse selection to watch for many tastes. More streaming channels will also appear in the Channels section at regular intervals.
Pluto TV, a Paramount Company, is the leading free streaming television service delivering hundreds of live linear channels and thousands of titles on-demand to a global audience of 80 million monthly active users. The Emmy ® award-winning service curates a diverse lineup of channels, in partnership with over 400 international media companies, offering a wide array of genres, languages and categories featuring movies, television series, sports, news, lifestyle, kids and much more. Pluto TV can be easily accessed and streamed across mobile, web and connected TV devices. Headquartered in Los Angeles, Pluto TV's growing international footprint extends across three continents and over 35 markets.