Sanoma´s ambition is an inclusive culture where everyone is welcomed, respected and supported as their own true selves. As part of Sanoma's sustainability strategy we promote diversity and gender neutrality throughout our business. Today we celebrate International Women's Day and show our support for an inclusive culture and gender equality.
Sanoma operates in 12 countries, with employees from different cultural and educational backgrounds and a variety of age groups. We continuously aim to improve the diversity of our workforce as it increases innovation and engagement. We believe that diversity is not enough without inclusion. Therefore, our strategic ambition is an inclusive culture where everyone is welcomed, respected and supported as their own true selves.
In 2022, we took important steps in advancing on our diversity & inclusion (D&I) journey. All employees were invited to participate in our D&I survey carried out in collaboration with a third party. More than 2,000 employees participated. Based on the results we see that our people feel they can be their authentic selves at work and personal characteristics are not a barrier to career progression. Also, respondents felt that the culture at Sanoma welcomes and values people of all backgrounds. There were also areas where we can improve. In our action plan we will address the experience of minority groups, support our leaders to take an active role in advancing inclusion and enhance transparency to ensure fair and equitable practices.
As increasing awareness about unconscious biases play a significant part in enhancing inclusion, we launched an online course for all employees on understanding unconscious biases and promoting inclusion both on individual, team and organisational level. In our Learning and Group functions, we also carried out a virtual training for close to hundred leaders to support them in leading by example and promoting D&I. In Media Finland, a new Leadership handbook was created and trained to managers with the ambition of driving the implementation of our leadership promises and equal leadership practices.
Ensuring that our employees feel that we provide equal opportunities is tracked by the Equal opportunities rating in our annual Employee engagement survey. In 2022, the rating improved to 7.7 (2021: 7.3). Our improving score above the European Benchmark of 7.0 shows that we have progressed well in the development of a more equal and respectful working environment.
Our ambition is a culture where gender plays no role, while we do follow and report the number of women and men in managerial roles. In 2022, 44% (2021: 45%) of team managers and 41% (2021: 39%) of directors or senior management were women. Although our gender diversity ratio is on a good level, we recognise that we need to focus on enhancing it in certain teams, such as technology and management level. Our target is that by 2030, we have a 50/50 gender balance in our managerial positions.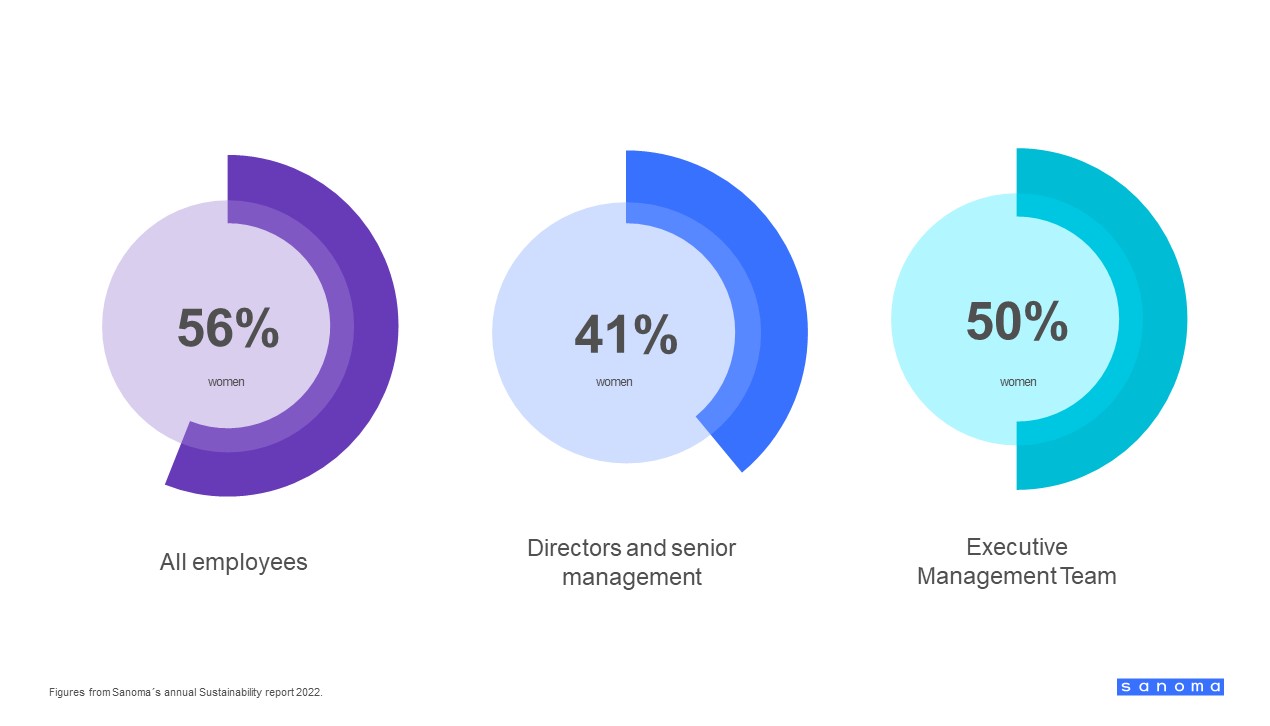 International Women's Day (IWD) is a global day celebrated annually on March 8 bringing attention to issues such as gender equality, reproductive rights, and violence and abuse against women.