Den Bosch, January 6 2014, Tita Toys, an internal venture by Sanoma B.V., is proud to launch its first app, Tita Playground, as part of a series of apps that help children to learn through playing.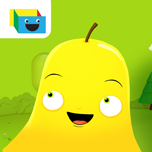 In an effort to accelerate digital transformation, Sanoma Internal Ventures was created. Within the Internal Ventures, new international digital products are developed in a variety of domains, ranging from consumer learning, beauty, content distribution, to fashion. Tita Toys playground will be the first app in a series of apps that provide children with fun learning experiences, developed by internal venture Tita Toys.
Internal ventures are typically built through a hypothetical business case and business model. Features of the future product are tested in small experiments to validate assumptions about content, usability and the fun factor. In the case of Tita Toys, all essential input was provided by 200 parents and 140 young children in order to develop apps that successfully help children to develop themselves.
Young children are known to learn best while they are having fun. That is why Tita Toys develops iPad apps for preschoolers that consist of play and educational games that children enjoy. The games and its characters are original, entertaining, and allow children to increase their vocabulary as well as improve math skills , creativity, motor skills, socioemotional skills, and their knowledge of the world.
Within the Tita Toys playground, children play outside in the playground and create music by combining characters with playground instruments that make unique sounds. Characters are also used for children to play around with words, which in turn improves language skills.
The Tita Toys playground app is targeted for preschoolers and provides hours of educational fun. Parents even receive updates about the development and work of their children as a result of the app. Earlier tests show a net promotor score of 5 where 75% of the parents would recommend the app to other parents and caretakers of children aged 2 to just 4. According to preschool teacher Eveline, "I'm a teacher for preschoolers and I can see my children learn lots of words so that they can name the world around them."
###
Tita Playground is available in the App Store and costs $2,49. Till January 7 2014 there is a special New Year's offer and is the app available for $1,99 .
Website
http://www.titatoys.com
Facebook
https://www.facebook.com/TitatoysApp
Twitter
https://www.facebook.com/titatoys
Youtube
http://youtu.be/HjSP2C6E67A
For more information or a free promocode please contact Tita Toys:
Natasja Corver, tel: +31-(0)6 53549250, e-mail: info@titatoys.nl
About Sanoma Learning
Sanoma Learning is a leading European provider of learning solutions in print and digital format. Our solutions bring better learning outcomes to pupils and support teachers in their daily work. Sanoma Learning is part of Sanoma. Sanoma is a front runner in consumer media and learning in Europe.
www.learning.sanoma.com | twitter.com/Sanoma_Learning