Sanoma Learning, one of Europe's leading learning companies, will present its Finnish holistic learning solutions approach for K-12 at the International Exhibition and Forum for Education (IEFE 2014, Riyadh), the leading trade fair for the education industry in the Gulf region. Sanoma Learning's presence at the trade fair fits into Sanoma's strategy to explore expansion into fast growing and transforming educational markets internationally.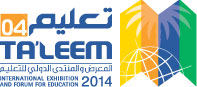 Sanoma Learning will present its latest innovations and products at the International Exhibition and Forum for Education (IEFE), taking place from February 3rd through 6th in Riyadh. These offerings revolve around the Sanoma Solution: an integrated holistic vision and component-based approach, consisting among others of: adaptive personalised learning paths and predictive learning analytics, teacher workflow solutions, testing & assessment, content and technology infrastructure.
Sanoma Learning is eager to engage with local partners in order to co-develop learning solutions that meet local market needs while introducing best practises from leading educational markets such as Finland, Sanoma's home base.
"We are eager to engage with local parties to jointly develop educational solutions that fit the local market needs but draw on our extensive experience in leading educational markets such as Finland", says Andrew Rufener, Director International Business Sanoma Learning.
"We believe in partnerships and that effective solutions require an approach that combines local and international best practises to teachers and pupils benefit".
Sanoma Learning is part of the Finnish Learning Consortium, and can be found at stand number 2508.
For more information, please contact Trudy de Jong, Manager Marketing Communications Sanoma Learning International, tel: +31 627 402 880, trudy.dejong@sanoma.com.
About Sanoma Learning
Sanoma Learning is a leading European provider of learning solutions in print and digital format. Our solutions bring better learning outcomes to pupils and support teachers in their daily work. Sanoma Learning is part of Sanoma.
www.learning.sanoma.com | twitter.com/Sanoma_Learning
About Sanoma
Get the world. Sanoma helps people access and understand the world.
We believe in a world full of opportunities, feelings, reactions and inspiration. A world that you can reach, influence, explore and share. We want to make it yours. Sanoma is a front running consumer media and learning company in Europe. In Finland and The Netherlands we are the market leading media company with a broad presence across multiple media platforms. Our operating markets in Learning are Belgium, Finland, The Netherlands, Poland and Sweden. In 2012, Sanoma's net sales totalled EUR 2.4 billion. Sanoma is listed on the NASDAQ OMX Helsinki stock exchange.