YDP selected as one of Europe's most dynamic and exciting businesses, actively demonstrating the core principles of the European Business Awards: Success, Innovation and Ethics.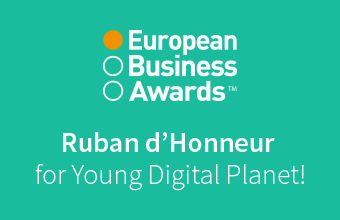 Young Digital Planet has been named as one of the final 100 businesses and Ruban d'Honneur recipients in the 2013/2014 European Business Awards sponsored by RSM international. Selected as one of ten finalists in the THE UKTI (UK Trade & Investment) AWARD FOR INNOVATION, Young Digital Planet will now go on to compete in the third and final round of judging resulting in 10 overall category winners to be announced at a Gala Event on 27 May 2014 in Athens.
The European Business Awards is an independent Awards programme designed to recognise and promote excellence, best practice and innovation in the European business community.
The 100 Ruban d'Honneur recipients were chosen from 375 National Champions by an esteemed panel of judges made up of European business and political leaders, academics and entrepreneurs. The judges will now undertake a face-to-face interview with and all the other 99 successful Ruban d'Honneur recipients in order to decide on the overall category winners.
Kamil Kazimierczak, Marketing Director "We are extremely proud to reach the Ruban d'Honneur stage of the European Business Awards and to represent Poland. The European Business Awards is widely recognised as the showcase for Europe's most dynamic companies and we are now looking forward to describing to the judges in more detail how we are achieving business success."
Adrian Tripp, CEO of the European Business Awards says, "These businesses are shining examples of European business success and our judges were extremely impressed by the very high standard this year. Young Digital Planet deserves the very best of luck in the highly competitive final round."
José María Aznar, former Prime Minister of Spain, "I have the highest opinion of the European Business Awards. It is a great initiative to promote the values and principles we believe in: liberty, democracy, freedom of speech, open markets and open societies."
The European Business Awards connect the best in Europe across borders, business size and sector and celebrate excellence, innovation, entrepreneurship and best practice. For more information, please visit http://www.businessawardseurope.com./
About Young Digital Planet
Young Digital Planet is one of the world's leading educational eContent publishers and eLearning technology providers with a strong global presence. Since 1990, Young Digital Planet has been at the forefront of new technologies developing a range of educational learning solutions and services that meet evolving needs of customers in the publishing, educational and governmental sectors. Young Digital Planet is part of Sanoma Learning.
www.ydp.eu
About Sanoma Learning
Sanoma Learning is a leading European provider of learning solutions in print and digital format. Our solutions bring better learning outcomes to pupils and support teachers in their daily work. Sanoma Learning is part of Sanoma. Sanoma is a front runner in consumer media and learning in Europe.
www.learning.sanoma.com | twitter.com/Sanoma_Learning