The Frankfurt Book Fair 2013 is a proud moment for Young Digital Planet. This year they will be presenting two new solutions and enhanced versions of their current products. You are very welcome to take part in the new product launches and live presentations at Young Digital Planet's stand D65 in hall 4.2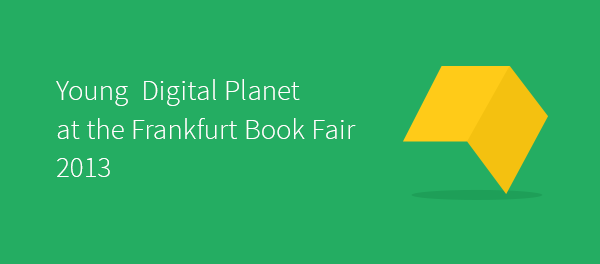 Lower Primary Solution – Kosmikus
Lower Primary Solution – Kosmikus combines the sophisticated functionalities offered by the Lower Primary Environment with educational resources from Lower Primary Curriculum. This comprehensive product allows to make use of children's love for new technologies in the didactic process during the first years of their education. It blends premium content with features that motivate the children: multimedia resources, beautiful comic book graphics or role-playing elements. The Lower Primary Solution enables self-study at home or in the classroom along with providing teachers with a number of tools.
Presentations: Wednesday, 9 October – Saturday, 12 October at 10.30, 12.00, 13.30, 15.00, 17:00
The Core Curriculum for English - K12 Extensive Supplementary Materials for English
The Core Curriculum for English is a set of educational ELT resources that enhance the K-12 standard curriculum. Teachers are free to select and combine resources to create lessons that both meet their students' individual needs and cover the requirements of the national or regional English curriculum. The Core Curriculum for English interactive resources can serve as supplementary material for any textbook at any level of education.
Presentations: Wednesday, 9 October – Saturday, 12 October at 11.00, 12.30, 14.00, 15.30, 17.00
Digital Enhancer 4 SEN
Digital Enhancer 4 SEN includes 3 modules of interactive multimedia content designed for different areas of diagnosis and therapy.
It is formed by 10 coherent titles that have proven their value as educational and therapeutic tools. Created by experts the series has been approved as a medical device and awarded the CE label thanks to the implementation of the ISO 13485 Quality Management System.
Presentations: Wednesday, 9 October – Saturday, 12 October at 11.30
mContent Stock
The linear textbook approach is facing more and more difficulties in engaging young learners. To provide a solution that helps to challenge and support each child in the classroom individually, Young Digital Planet has created mContent Stock – multimedia-based interactive content designed and developed for mobile devices. mContent Stock is a syllabus-compliant pool of over 3,000 (3,278) lessons in Maths, Biology, Chemistry, Physics and Science for Upper Primary to Upper Secondary students. It offers two types of lessons – Foundation Builder and Knowledge Expander – that meet the diverse needs of every pupil.
Presentations: Wednesday, 09 October – Saturday, 12 October at 16.00
Digital Books Solution – Bookshelf version 2.1
Bookshelf is a one-of-a-kind comprehensive Digital Books Solution for swift and easy creation, management and delivery of superior quality interactive content. The set of tools carefully tailored to the needs of publishers draws on more than 20 years of Young Digital Planet's experience and best practices in eContent development and delivery. ookshelf offers basic customisation options, such as the application of the publisher's logo, colors and texts, so as to blend in with the brand's look and feel. Read about new features in version 2.1 here: link
Presentations: Wednesday, 09 October – Saturday, 12 October at 14.30
Read more about Young Digital Planet's activities during Frankfurt Book Fair 2013 here.
About Young Digital Planet
Young Digital Planet is one of the world's leading educational eContent publishers and eLearning technology providers with a strong global presence. Since 1990, Young Digital Planet has been at the forefront of new technologies developing a range of educational learning solutions and services that meet evolving needs of customers in the publishing, educational and governmental sectors. Young Digital Planet is part of Sanoma. Sanoma is a front runner in consumer media and learning in Europe.
www.ydp.eu
About Sanoma Learning
Sanoma Learning is a leading European provider of learning solutions in print and digital format. Our solutions bring better learning outcomes to pupils and support teachers in their daily work. Sanoma Learning is part of Sanoma. Sanoma is a front runner in consumer media and learning in Europe.
www.learning.sanoma.com