Hanna Jensen, MA (Pol. Sc.) has been appointed to lead content development in an extensive new food project at Sanoma Magazines. Next year, Finland's leading magazine publisher will introduce a multichannel food content package including several different media products.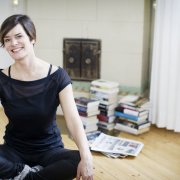 Hanna Jensen (42) will be responsible for developing food content for the project and the organisation of the content production team. The purpose of the project is to create a multichannel product family focused on food. The first launches will take place in February 2014. The project is being headed by Development Manager
Juha Anttila
from the Sanoma Magazines digital publications unit."The way Finns use the media is becoming increasingly digital. We are reacting to this by producing extensive thematic content packages and marketing them to several different target groups. We will start with food, which is an important part of people's lives and society as a whole. I'm glad to announce that Hanna Jensen will be bringing her sharp eye for trends and her gift of treating current phenomena with flair to this project, which will be of a central focus in our future product range," says Publisher
Riitta Pollari
from the Magazines unit of Sanoma Magazines.Hanna Jensen is known as a food editor and blogger as well as a freelance journalist contributing to a wide variety of magazines, including
Talouselämä
,
Image
and
Olivia
. She has also worked as a visiting editor-in-chief of
Anna
and written two books."Sanoma Magazines knows and reaches Finns and already publishes interesting food content in several magazines and newspapers, as well as online. This is a unique starting point for building a new attractive food package available through many different media channels," says Hanna Jensen.Additional information:Riitta Pollari, Publisher, Magazine Media, tel. +358 9 120 5305
Sanoma Magazines is a robustly developing multi-channel media house. Our passion is the development of unique content, attractive brands and service-minded media solutions. Our product selection, composed of more than 40 brands, covers themes ranging from lifestyle to cutting-edge technology and offers experiences, knowledge and entertainment for millions. Sanoma Magazines is the largest magazine publisher in Finland and a leading producer of publications for children and youth. Sanoma Magazines is part of Sanoma. Sanoma is a European forerunner in consumer media and learning.