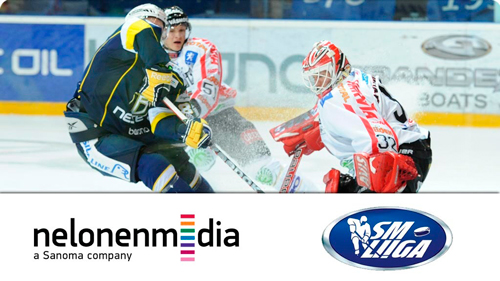 The TV rights to the games played by SM-liiga, Finland's top professional ice hockey league, will be taken over by Nelonen Media, part of Sanoma Media Finland, as of autumn 2013. The new five-year agreement represents a long-term commitment by Sanoma to developing a media concept specifically tailored to the needs and expectations of Finnish ice hockey fans. 
SM-liiga Oy and Sanoma have today signed a five-year agreement covering the TV rights to SM-liiga games from the 2013-2014 season onwards. Under the agreement, Nelonen Media will have the exclusive rights to televise all SM-liiga games."Sanoma's strategic goal is to further broaden the range of media services that it offers consumers," says Sanoma Media Finland's CEO,
Anu Nissinen
. "The new agreement with SM-liiga will give us access to a wealth of unique additional content, and we aim to leverage Sanoma's extensive range of media and services to make the most of this material."Sanoma's media offering reaches four million Finns a week, through TV, print, and online services; and SM-liiga is Finland's leading sports brand."The agreement with SM-liiga will give Nelonen Media a great opportunity to build a new consumer-friendly, ice hockey-based TV product," says
Hans Edin
, President of Nelonen Media. "SM-liiga games will become a key part of people's weekly viewing rhythm when we take over the TV rights in the autumn next year.""Our new collaboration with Sanoma will open up an entirely new range of opportunities for serving Finnish ice hockey fans and will bring ice hockey to a wider audience, as well as further strengthen the SM-liiga brand," says
Hannu Penttilä
, the Chairman of SM-liiga."The agreement will benefit everyone, the public, the League, and the teams in the League. It will also certainly strengthen the international competitiveness of our teams and Finnish ice hockey as a whole," says
Jukka-Pekka Vuorinen
, SM-liiga's Managing Director.
 Further information:
Anu Nissinen, CEO, Sanoma Media Finland, tel. +358 (0)10 707 7000Hans Edin, President, Nelonen Media, tel. +358 (0)40 050 0489Jukka-Pekka Vuorinen, Managing Director, SM-Liiga Oy, tel. +358 (0)400 626 567
 Sanoma Media Finland and its impressive portfolio of brands is a powerful force in today's media marketplace. Our magazines, TV and radio business, and online and mobile services reach a large number of Finns and provide an extensive range of exciting content and entertainment. Sanoma Media Finland comprises two businesses: Nelonen Media, which focuses on TV and radio, and Finland's leading magazine publisher, Sanoma Magazines Finland. Nelonen Media's brands include the Nelonen, Jim, and Liv commercial TV channels; the Nelonen Kino, Nelonen Maailma, Nelonen Perhe, and Nelonen Pro 1 and 2 pay TV channels; Radio Rock, Radio Aalto, Radio SuomiPOP, Groove FM, and Metro FM; the ruutu.fi Internet TV service; and online and mobile services for all its channels. Sanoma Media Finland is part of the Sanoma Group, a major European media company active in over 20 countries.