Helena Åhman's "Mielen johtaminen organisaatiossa" (Sanoma Pro) has won the 2012 literature prize of the Finnish Association of Business School Graduates. The main prize is EUR 24,000 and it was awarded at the Helsinki Book Fair on 26 October 2012.
According to the jury, Åhman's book challenges readers to think. Åhman has extensively studied her book's theme – how to impact the human mind – and addresses the theme in a practical way. The goal of the book is that management take people better into account and also make it more comprehensive. The book's up-to-date list of sources, along with its clear and attractive layout, were also commended.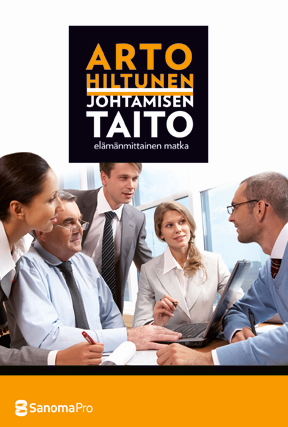 Award for merit was shared
The award for merit, EUR 6,000, was shared by Arto Hiltunen's book "Johtamisen taito" (Sanoma Pro) and Matti Lainema's"Enkeleitä, onko heitä?"
The jury: Malin Brännback, ED, professor and vice rector of Åbo Akademi (chairperson); Petri Kokko, EM, director of Google Germany; and Kimmo Sasi, DE, VT, MP and chairperson of Parliament's Treasury Committee.

About Sanoma Pro
Sanoma Pro is the leading provider of learning and competence development solutions in Finland. We provide solutions, content and tools for lifelong competence development; from preliminary education to business life, from pre-schooler to managing director. Sanoma Pro employs 200 dedicated professionals. Sanoma Pro is part of the Strategic Business Unit Sanoma Learning.
www.sanomapro.fi

About Sanoma Learning
Sanoma Learning is a leading European provider of learning materials and solutions in print and digital format. We provide solutions that support teachers in their everyday work. These solutions enable personalised learning and increase teacher's efficiency by automating non-essential tasks, which frees up time for actual teaching. Sanoma Learning is part of the Sanoma Group, a strong European media group operating in diverse fields of media in some 20 countries.
www.sanomalearning.com