WTF.nl
is the first Dutch online tabloid that entertains visitors with remarkable news from the Netherlands and the rest of the world. It contains articles that amaze and stories from the entertainment business you want to share with your social network.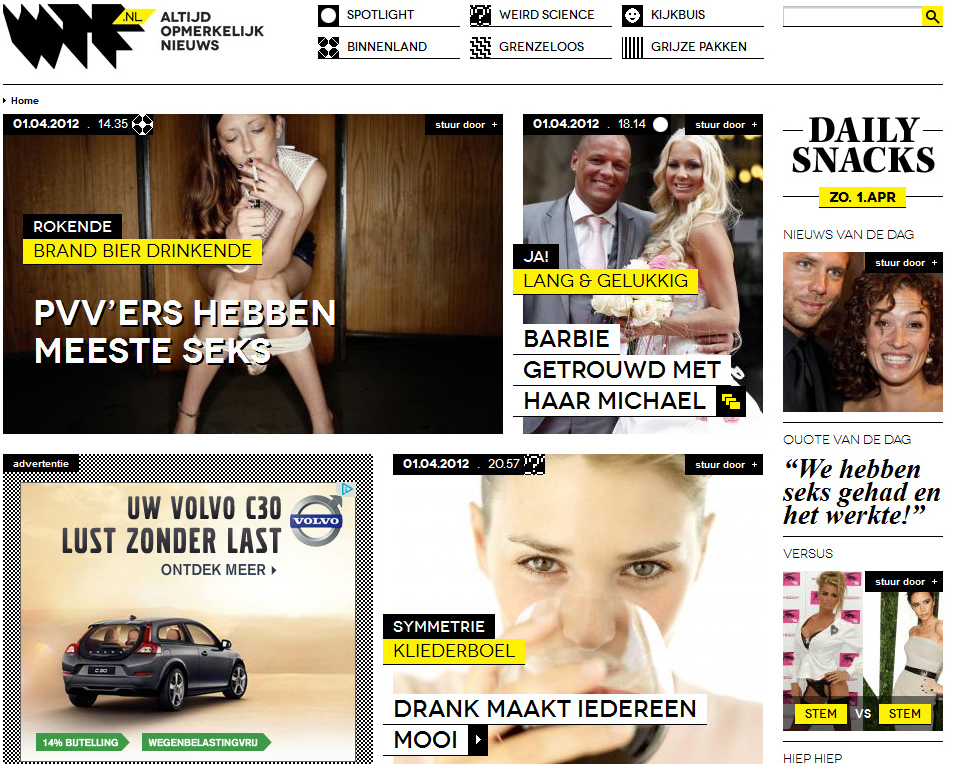 Sander Stallinga, Publisher News Sanoma Media Netherlands: "Our goal is to expand our news cluster with specialty sites on different news types. Next to our general interest news site NU.nl we already cover business and sports news with NUzakelijk.nl and Nusport.nl. With
WTF.nl
the entertainment section is covered as well."
WTF.nl
The name WTF simply means "Wat Tekst en Foto's" in Dutch, (Some Text and Images) but also a clear wink at the English meaning: What the Fuck. "The name clearly states the lightness and nonchalance of the news we are bringing", Dennis van Luling, editorial manager WTF.nl.
Watch the video.
Daily snacks and eye candy
The design of the site, with catchy images, draws the visitor directly into the site. Next to remarkable and entertaining news the site contains a few returning items called the Daily Snacks. These news snacks are returning editorial items containing lists, slideshows and video's meant to activate the readers to return more often: for example the daily poll, 'Hot or Not', Best-of-web Video and picture of the day.
iPhone en Android app
WTF.nl can be followed through the online and mobile site and with the iPhone and Android app.
iPhone app
Android app