Sanoma Media launched an advanced extension to the existing IMX Ad Exchange environment. The new Automated Trading Platform is called ADAPT and offers new purchasing options over and above the current CPC option (known as IMX): CPM and Retargeting. Another addition to the Automated Trading environment will follow shortly, with the launch of the ADAPT Audience, ADAPT Discovery and ADAPT mobile products.
Automated Trading
In 2007 Sanoma Media already launched the first version of an Ad Exchange: IMX. Now, five years on and with far more experience, it is time for a new state-of-the-art version of this automated trading environment with various calculators within an even larger quality network such as the SBS network, KPN Vandaag, Scholieren.com and the MTV network. Watch the explanimation.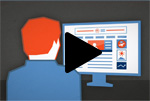 Sanoma Media's Automated Trading Platform is exceptional at a national and even European level. Media agencies with the right technology can purchase via ADAPT, but parties without the right technology or expertise at their disposal will also be given in-depth advice by Sanoma Media about automated trading. Given the different product formats, there is an appropriate automated trading solution for each and every advertiser.Rachel Gómez y Maseland, sales director, says, "ADAPT is the right solution for advertisers and agencies seeking assurance of a high-quality network for their campaign, yet who still wish to purchase via auction. We have found that it's exactly the combination of premium advertisements, such as rich media or branded content, and performance-driven campaigns purchased via ADAPT that yield optimum results".