The winners of the European Seal of e-Excellence 2012, the prestigious Europe-wide Award, promoting the marketing of innovation, were announced at the CeBIT in Hannover, Germany on March 6. Innovative and market driven companies from 18 countries joined the award ceremony to receive their award from the hands of jury members.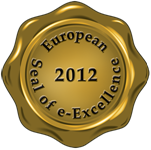 Awarded annually by EMF, the Forum of e-Excellence and its Partner Organisations, the European Seal of e-Excellence is widely known for promoting companies in the digital field with innovative products and services, and excellent marketing practices to promote them.

Nemzeti Tankönyvkiadó (NTK) was awarded with the Golden Seal of e-Excellence for TeachAR-3D World, NTK's own developed, virtual reality based educational software.
Please watch the video about the TeachAR–3D World software here.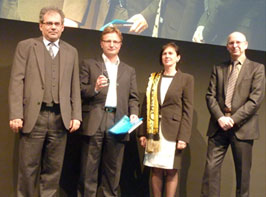 Péter Racskó (second from the left), ICT manager of Nemzeti Tankönyvkiadó, on receiving the prize has declared: "It is a great honor to receive the Golden European Seal of e-Excellence 2012. As the market leader textbook publisher in Hungary, Nemzeti Tankönyvkiadó is fully committed to the adaptation of latest technologies and to the development. The prize-winner TeachAR – an educational software applying the technology of 3D World augmented reality – gives a good proof of this commitment. The gold category prized software helps the pupils in deeper understanding the already known phenomena by extending of perception and in quicker processing of new themes. TeachAR creates a real win-win situation in education, as this unique educational software in international aspect helps the teachers to make lessons much more interesting and to bring curriculum much closer to pupils."
For more information on TeachAR, please contact Péter Racskó, ICT Manager at NTK.

About Nemzeti Tankönyvkiadó Zrt. (NTK)
NTK is the market leader on the local textbook publishing market in Hungary. NTK is the only publisher that provides learning systems for all ages in all types of schools, in all parts of the country. NTK produces textbooks as well as teacher handouts, workbooks, e-products and various other learning tools and services. NTK is part of the Strategic Business Unit Sanoma Learning.
www.ntk.hu