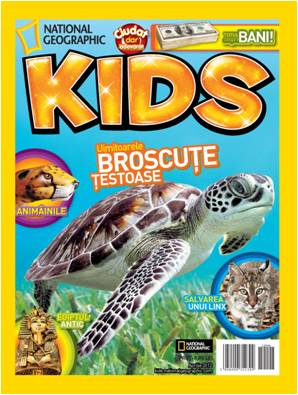 Sanoma Hearst Romania launched National Geographic Kids magazine in Romania, beginning with the April issue.
National Geographic Kids has a print run of 20,000 copies at a price of 8,9 RON (2 euro). The launch is accompanied by a marketing campaign on print, online, radio and TV.
"By launching National Geographic Kids, we increase the target group of National Geographic publications in Romania. Now, the entire family, both parents and kids, can enjoy their common passion for nature, history and the whole world with its wonderful peculiarities. -Dare to explore- is more than a slogan, it is our invitation for all young explorers," said Irina Iordache, Business Development Manager, Kids Cluster.
The magazine will be published as part of Sanoma Hearst Romania's kids segment, which also includes Disney books.

About Sanoma Hearst Romania:
Sanoma Hearst Romania (SHR) is the number one publisher in the Romanian market. SHR is a joint venture of Sanoma Media Russia & CEE (SMRCEE) and Hearst Magazines International. SMRCEE is part of Sanoma and responsible for the activities of Sanoma's Media in Central, East and South East Europe. It has leading market positions in Bulgaria, Hungary, Romania and Russia. Sanoma is a strong European media group operating in diverse fields of media in over 20 countries.

For more information, please contact (not for publication):
Irina Iordache, Business Development Manager, Kids Cluster
+ (40) 0724 340 030
irina.iordache@sanomahearst.ro