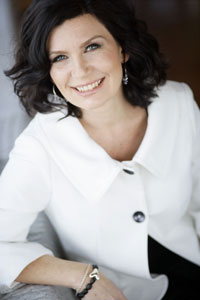 Marjo Vuorinen has been appointed Managing Editor at Gloria as of 2 January 2013. She will join Finland's leading lifestyle magazine from her current position as Editor-in-Chief of Me Naiset.
Marjo Vuorinen has been Editor-in-Chief of
Me Naiset
since 2010. She was previously the magazine's Managing Editor and before that she was producer and editorial secretary of
Kodin Kuvalehti
, a producer at Metro-lehti, a journalist on the news team at MTV3, and a journalist on the home and city desks at
Helsingin Sanomat
. Marjo Vuorinen holds an M.A. from the University of Tampere."This is a great opportunity for us to bring a true professional like Marjo Vuorinen in our team, with her extensive experience of team management and journalism generally," says Gloria's Editor-in-Chief,
Minna Juti
. "We will be revamping the magazine this autumn, aimed at further strengthening our position as the undisputed number-one lifestyle magazine in Finland.""I have always seen 
Gloria
as a very interesting and varied magazine with a wide perspective on the life of women today, not least in the area of fashion," says Marjo Vuorinen. "I hope that the experience I will bring to the magazine will help make Gloria even bolder in its approach and more topical, and further strengthen its editorial content. The world is full of opportunities and promise for Gloria women!"
Gloria is Finland's leading fashion magazine and a premium lifestyle title, featuring the latest in fashion and cosmetics, quality coverage of the arts, in-depth interviews, and a delicious food section. Only the best is good enough in Gloria. The magazine has 262,000 readers (NRS Reader 2011) and a circulation of 51,382 (FABC 2011), and part of the portfolio of Finland's leading magazine publisher, Sanoma Magazines Finland.