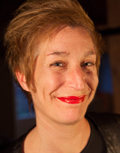 Marieke van Eyndhoven (1969) has been appointed as Tutoring Director for Sanoma Learning, as of February 1, 2013. For the last six years, Marieke has been employed by Laureate Online Education, a company that provides online university experiences and degrees through a network of partner-based universities. She started as Vice President Sales, but held the position of General Manager for the last five years.
Previously, Marieke also founded two companies. Those start-ups were active in the provision of online training and innovative service concepts respectively. After several years, both companies were acquired by other organisations. Marieke holds a Master's degree in Science from the University of Utrecht.
The position of Tutoring Director is a new function, created to develop and build Sanoma Learning's tutoring business. One of the key objectives is to achieve a concept and platform which meets the common needs, by maximizing synergies between the tutoring offerings of our different countries. Marieke will be working closely together with our business unit employees that have been working on the tutoring business in their own country.
With her experience in online university degrees, the online training business and around innovative service concepts, Marieke will be a very valuable asset to Sanoma Learning.

Jacques Eijkens
CEO, Sanoma Learning

Sanoma Learning is a leading European provider of learning materials and solutions in print and digital format. We provide solutions that support teachers in their everyday work. These solutions enable personalised learning and increase teacher's efficiency by automating non-essential tasks, which frees up time for actual teaching. Sanoma Learning is part of the Sanoma Group, a strong European media group operating in diverse fields of media in some 20 countries.
www.sanomalearning.com