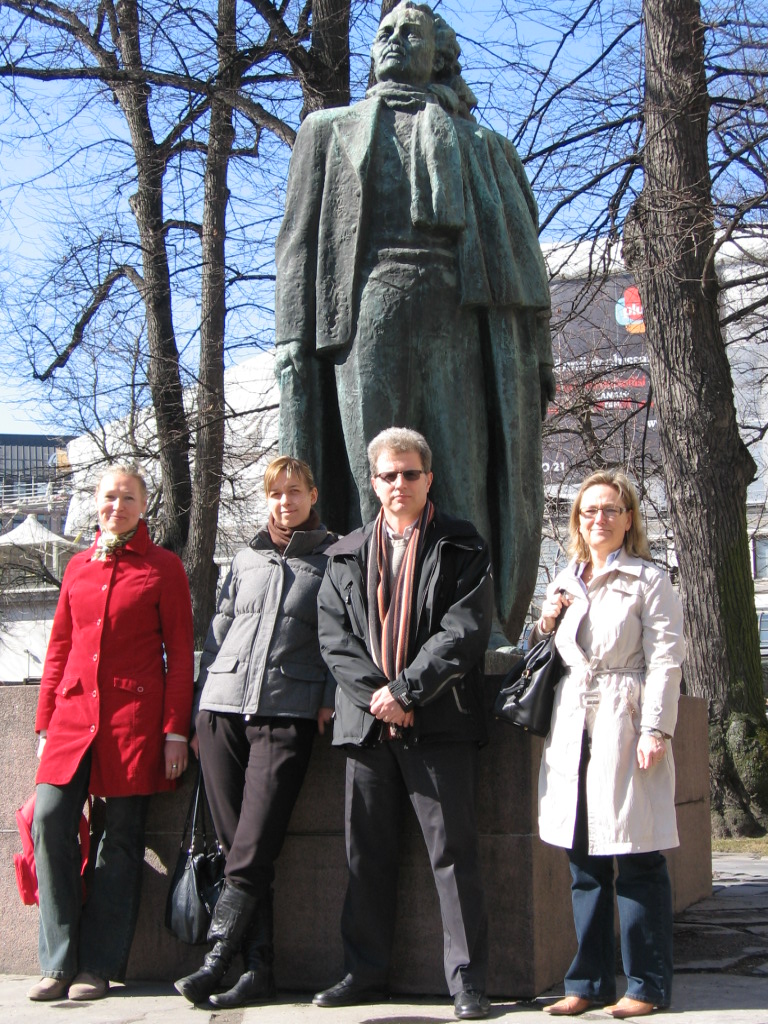 Earlier this spring, AAC Global hosted an impressive group of students - EU interpreters - who had signed up for an intensive three-week immersion into Finnish language and culture. Taking place at the time of the parliamentary elections, the training offered a box-seat to Finnish politics. Meeting people from Finnish political and business life, culture, and education were key elements of this special, customized Finnish language training experience.
The trainees, Krista Bergmane from Lithuania, Mari Kelve-Liivsoo from Estonia, and Brian Connor from Great Britain are interpreters in the EU parliament. Each of them has studied Finnish for years, and this April they attended their second intensive training period in Finland organized by AAC Global Oy.
An interpreter's work is demanding and requires continuous learning. In order to stay on top of current issues, interpreters must keep their fingers on the pulse of media and political life. The topics discussed in the EU sessions vary greatly. Interpreters don't have a ready manuscript at hand. "Context is your best friend, and it's the message that counts," Brian remarks.

Initiation to Finnish political life
The three week training provided the perfect environment and context for practising Finnish political language. Rather than traditional language training, the trainees met people from industry, the media, culture, and education. Even the classroom training focused on spoken language and in particular on parliamentary election debates.
The session also left room for some spontaneous hands-on learning such as interviewing election candidates at their stands in the Helsinki city center. Combined with free time activities, the three-week period provided good insight into Finnish social structures and culture.

Specialized and customized training
The training was a complete expedition into Finnish political language and topics. As AAC's head Finnish language trainer, Kirsi Tanner, points out, "It is not always possible to fully prepare for this kind of training beforehand when current events is the key element. But the benefit is that every day offers something new".
This learning method demands a lot from the trainer. Kirsi has extensive experience as a Finnish language trainer, and particularly with EU institutions. She knows their quality requirements and how they operate. Kirsi was able to provide a selection of the most useful current themes regarding the interpreters' work at the EU.
"The training met our expectations perfectly," Krista confirms. The timing could not have been better. Listening to the Finnish language of different speakers is as close to the actual interpreter's work as you can get.

About AAC Global
AAC Global is the leading provider of globalization services in the Nordic markets. We actively support our customers in their competence and communication challenges in multilingual and global business environments. Our comprehensive portfolio of globalization services include translation, localization, terminology management, documentation services as well as training in languages, communication and international management skills. AAC Global is part of the Division Sanoma Learning & Literature.