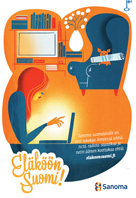 During the weeks 6 and 7, Sanoma is visible around the city of Helsinki in the Eläköön Suomi! (Hooray for Finland!) campaign posters. The campaign, started in November, celebrates the significance of Finnish work in consumers' choices and actions of companies.
Part of the campaign is the hunt for the most legendary Finnish product. On the list there are also Sanoma's products, which can be voted for until 1 May at the Eläköön Suomi! website.
The campaign is organised by the Association for Finnish Work, advertising agency Dynamo and Clear Channel. The participants are Sanoma, Finlayson, Fiskars, Kekkilä, K-Rauta, RAY, Viking Line and VR.
Sanoma believes in the Finnish knowhow. Together we can make it!


Sanoma inspires, informs and connects. We bring information, experiences, education and entertainment to millions of people every day. We make sure that quality content and interesting products and services are easily available and meet the demands of our readers, viewers and listeners. We offer challenging and interesting employment for over 20,000 people in 20 countries throughout Europe. In 2008, the Group's net sales totalled EUR 3.0 billion.