In 1974, a school boy got a summer job in Sanoma News' quality tabloid Ilta-Sanomat. In 1980, a permanent job in the same publisher's daily, Helsingin Sanomat, was offered him. Thirty years later, on 1 April, president of Helsingin Sanomat Pekka Soini, 52, is once again starting in a new post, this time as Sanoma News' acting president.
"Somebody might think that what a dull career – working only in Sanoma. In thirty years both the company and the business have changed a lot. There has been no need to look around as Sanoma is the leading company in the field. A company with a big heart," Soini describes.
He is excited and very motivated to start in the new position. "It feels great to start now when the company is in good shape and the economy seems to be recovering. Sanoma News' organisation is filled with highly skilled people and it is a privilege to work with them."
Need to know the customers' needs
A long time in managerial positions has taught Soini not to start the first day with an extensive list of changes. As personal strengths he mentions marketing skills, brand building as well as developing new products and concepts.
Soini is one of the founders and chairman of the board of Kärkimedia, the joint media sales organisation of Finnish newspapers. Ever since the beginning, he has also been involved in the development of the leading Finnish search service Oikotie.fi and Netwheels that provides online services for car dealers.
In Soini's view future success comes from multi-channel thinking and acting. "We have to be active, passionate and creative in developing our business. In addition to maintaining the strong position of our printed products it is utmost important to pursue market leadership in chosen areas of digital media. Traditional media doesn't stay vital by protecting it, but by constantly developing it to meet the changing needs of the customers."
Soini is particularly happy about the increasing co-operation within the Sanoma Group. "It is worthwhile to cooperate and invest in projects with common goals."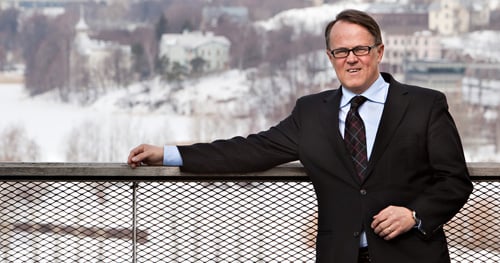 Sanoma News is the leading newspaper publisher in Finland, and its products have a strong presence both in print and digital format in the lives of their readers. Sanoma News is part of the Sanoma Group.