Increasing number of videos from Nelonen Media's online TV service Ruutu.fi can also be seen on Finnish news sites Iltasanomat.fi and HS.fi. Co-operation started earlier this year when Iltasanomat.fi began showing the Finnish league's ice-hockey goal videos from Ruutu.fi and has now expanded on other news themes as well.
"Most of YouTube video's are watched on other sites than on Youtube.com. Also Ruutu.fi wants to provide an easy way to link in videos on any web site," says Online Manager Kai Taka-aho from Nelonen Media.
Sharing videos across the three web sites that all belong to the Sanoma Group benefits them all: Iltasanomat.fi and HS.fi attract more visitors and Ruutu.fi gets more viewers for the videos that are sponsored by advertisers.
"The co-operation gives Nelonen Media an opportunity to share its professionally produced TV content on Sanoma's popular web sites. For Iltasanomat.fi the videos are a way to improve the content as a whole and increase the time spent on our site," says Kaius Niemi, the Editor-in-Chief of Ilta-Sanomat.
In October, Ruutu.fi reached its all time high number of viewers as well as the number of shown advertisements but the ambition to develop the site remains high. At the moment Ruutu.fi is running a marketing campaign to induce new viewers. Also new distribution channels are seeked from co-operation with operators and from new devices. "The user experience is developed constantly even better," promises Taka-aho.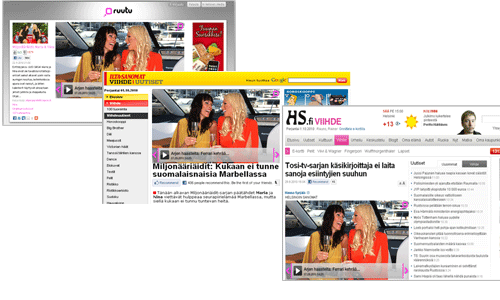 Nelonen Media, Iltasanomat.fi and HS.fi are all part of the Sanoma Group.