Books, newspapers and magazines, movies and music offer me-time, relaxation and a break from daily routines. When it comes to the Apollo bookstore in the new Solaris shopping and entertainment centre in Tallinn, a mere visit to the store is an inspiring experience.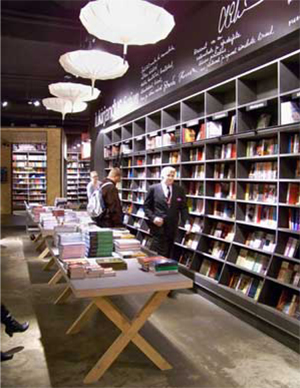 Apollo, a store of the Apollo Raamatud chain and a part of Sanoma Trade, was opened in October 2009.
Apollo has soft music on the background and thoroughly chosen colours. Cosy chairs for booklovers add to the ambience. In the cafeteria, there are books displayed on the tables. Apollo has something the Finnish bookstores have not dared to carry out yet.
Vision put to practice
Arvo Pihl, managing director of Apollo Raamatud had a clear vision that the chain needs a new big location in the heart of Tallinn, and it needs to be something quite new and different.
"I wanted a store to surprise, to amaze and to offer a nice location to spend time, with a space for performances. People stop visiting a store that always offers the same. The new Solaris was a great opportunity for us," Pihl says.
The vision was not so easy to accomplish, and it took years of negotiations and planning. Jarmo Oksaharju, managing director of Suomalainen Kirjakauppa helped in many ways. Finally Solaris offered Apollo an empty space, where even the separating walls had to be built anew.
"We didn't want our store to look like a hypermarket. Interior design agency Vaikla Studio utilised ceiling elements to bring variation and rhythm to the space. The architects of Vaikla also challenged us to think anew – what would a bookstore without bookshelves be like. Tiny changes can turn things into something totally new," Pihl describes.
Apollo store in Solaris covers 1,350 square metres and a shop-in-shop cafeteria. The cafeteria concept was found functional in a previous store already.
"I am very pleased with the result. This Apollo is unique and will not be reproduced elsewhere. However, several store concepts can be utilised someplace else too," Pihl notes.
"Best place in Solaris"
Eha Pank, store manager and superior to Apollo's 20 employees, is proud of her workplace. Customers have praised the store, which has caught the eye of media too.
"One customer said Apollo store is the best place in the whole Solaris. We have received lots of positive feedback both from the customers and from the stakeholders," Pank says.
Apollo aims at being the most central venue for book trade in Tallinn. Apollo hosts already now interviews of writers and musicians, as well as fairy tale hours".
The Apollo bookstore chain in Estonia is part of Sanoma Trade, a Divsion of the Sanoma Group.
Original text and photo: Tiina Hakala