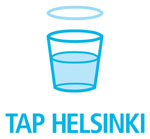 Helsingin Sanomat, the biggest daily newspaper in Finland, and UNICEF start a clean water project in the Helsinki metropolitan area restaurants in April. The Tap campaign encourages restaurants to participate, and customers to donate one euro for a glass of tap water. The collected money will be directed to UNICEF's global water programmes which aim at providing clean drinking water to children and young people around the world.
The Tap campaign started in 2007 in New York where local consumers paid a dollar for a glass of ice water that is normally free of charge in restaurants. This year the campaign is spreading around the world with Finland being one of the first countries outside the USA to participate.
Campaign promotes Tap Helsinki
"We got to know about the project through our contacts and decided to participate. By bringing the project to Finland we seize the opportunity to take part in this important cause," Caroline Lilius, Marketing Director of Helsingin Sanomat, describes.
The project also offered a good opportunity for Finnish designers: the Tap project is promoted by a campaign unity that won an open design contest. Promotion starts with recruiting restaurants and continues with a consumer campaign in the end of April.