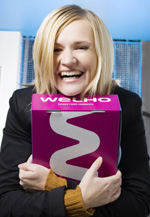 The number of pay TV subscriptions broke the record in Finland after TV watching switched to digital in 2007.

In addition to digitalization of TV, success stems from the versatile supply designed especially for the Finnish market and from the transition of several interesting contents to pay TV channels.

Interest in pay TV has grown also due to increasing supply of TV channels, growing number of recording set-top boxes and expanding high definition supply.
High-quality viewing experiences
Movies, series, sports and documents are the most popular pay TV contents. In autumn 2007 Welho renewed its pay TV channel packages ago based on a customer survey. Now the packages include the most popular channels and new content – in accordance with the wishes of the customers. Welho's S, M and L pay TV channel packages can be complemented by adding any of the Extra channels to the package.
The development of television will in the future also offer new viewing experiences. High definition television, HDTV, enables sharper and better picture quality. "Nowadays people buy more and more flat screen televisions which enable HD services," tells Jarno Haikonen, Manager at Welho in charge of products and services.
"The number of HD channels in Welho's offerings grew to 12 in December 2008. In addition, we launched Finland's first recording HD set-top box for cable network. Our customers are now able to enjoy their good-quality televisions to the full," Haikonen says. In Welho's network customers have access to Finland's widest high-definition supply. During this spring Welho will add even more HD channels to its selection.
Importance of time and date diminishes
Welho develops also other services that benefit TV viewers. Watching TV is gradually moving from traditional, linear viewing to on-demand era, which means that it is the customer who decides when to watch a programme.
"Recording set-top boxes are the first step towards this era. In the future, the supply will increase and programmes can be watched several days backwards. Also, the viewer can choose and purchase a movie from a selection of thousands of movies to his home television," Jarno Haikonen explains.
Welho is a pioneer in pay TV business in Europe. Welho has offered pay TV channels for over 30 years already, ever since 1978. Today Welho's selection includes over 130 TV channels, of which over 100 are pay TV channels – HDTV channels included.
Welho is part of Sanoma Entertainment, the electronic media division of the Sanoma Group.