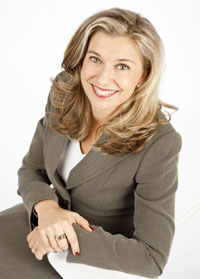 Clarisse Berggårdh (42) has been appointed CEO of Finland's leading magazine publisher, Sanoma Magazines Finland. She will take up the position on 1 February 2010 when the current CEO, Raili Mäkinen, retires just before turning 66 years old.
Clarisse Berggårdh has been with Sanoma Magazines Finland since 2006 and is currently Director Media Sales, Custom Publishing, and Digital Media.
"Clarisse Berggårdh combines visionary thinking, international brand expertise and positive energy with an excellent track record in managing sales even during difficult times," says Eija Ailasmaa, the Chairman of the Board of Sanoma Magazines Finland and the President and CEO of the Sanoma Magazines division.
"I believe that Clarisse will be an inspirational leader for Sanoma Magazines Finland. She will be able to extend and consolidate the company's successful publishing base and generate new growth", Eija Ailasmaa continues.
"Our leading brands, cutting-edge target group expertise, creativity, and reliability will be key capabilities in expanding Sanoma Magazines Finland's success in the new media landscape," says Clarisse Berggårdh. "Quality titles tailored to our readers' expectations will continue to lie at the heart of what we do, and alongside these our digital business will gradually take on an increasing role."
Raili Mäkinen has been CEO of Sanoma Magazines Finland since 2003 and will retire on 1 February 2010.
"Raili Mäkinen has had a successful and respected career in the publishing business and played a central role in the strong growth and market share expansion that Sanoma Magazines Finland has achieved during the current decade," says Eija Ailasmaa. "This success has been driven by ongoing brand and readership development as well as skilful management of the product portfolio. Raili has also made a valuable contribution to the wider magazine world through the work she has done in national and international organisations in the field."
Sanoma Magazines Finland is Finland's leading magazine publisher and the market leader in women's and family magazines, children's and juvenile publications, and consumer IT titles. Sanoma Magazines Finland is a business of Sanoma Magazines which is a division of the Sanoma Group, a strong European media group operating in diverse fields of media in twenty European countries.