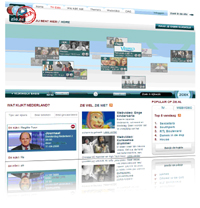 Zie.nl, an online TV- and web video guide, will be part of ilse media from now on. ilse media publishes websites like NU.nl, Kieskeurig.nl, SchoolBANK.nl and Startpagina.nl.
Zie.nl was launched at the end of last year, and currently Zie.nl is a guide in the supply of more than 175 TV channels. The site offers visitors the possibility to make a personal selection out of the overwhelming supply of video on TV, digital channels and web videos from various sources. Adding Zie.nl to ilse media's portfolio fits its strategy to continuously add new consumer propositions and also give the increasing online video consumption a more central place in the organization.
"For ilse media, Zie.nl should be seen as a nice, little, but also innovative project. The learning that we derive helps us in our thinking how we should approach online video in the future," comments the CEO of ilse media Joris Van Heukelom.
Dutch-based Sanoma Uitgevers is part of Sanoma Magazines, the magazine division of the SanomaWSOY Group.