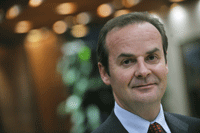 Timo Mänty, 48, was today appointed President of Rautakirja and head of the Sanoma Trade division as of 1 January 2009. Mänty will also become a member of Sanoma's Executive Management Group.

"Timo Mänty has a long history working for Sanoma Trade and diverse experience from its different business areas," says Group President Hannu Syrjänen. "Our goal was to find for Erkki Järvinen, the current President of Rautakirja, a successor who would know both the Sanoma Group and its business and who would steer the company successfully, even in a challenging economy."

"This is a pleasing step in my career and a fascinating responsibility that combines a familiar organisation and its people with new challenges and opportunities to comprehensive business development," Mänty says.
New concepts and group-wide co-operation

Mänty has worked for Sanoma Trade twice, fifteen years altogether. "These past years, especially the new millennium, have marked a period of strong development and in particular internationalisation. In movie operations, for example, we have grown in this century from an exclusively Finnish player into the leading movie theatre operator in the Baltic."

Mänty sees great potential for future development in Sanoma Trade. "Given the current economy, ensuring steady performance will be a priority in the near future. To reach this goal, we will need to critically examine our modes and models of operation. Concept development and new innovations will be increasingly important for success in the longer term."

Development work, Mänty explains, will require enhanced flexibility and adaptability from the organisation, along with creativity and the ability to respond quickly to the changing business environment. "Above all, success depends on our enthusiastic, competent, and committed staff."

He names group-wide cooperation as a key focus in future development. "I believe that co-operation presents many opportunities that are not yet fully exploited. Tapping this potential will help the Group become even more successful."

Movies are not only work

Outside work, Mänty devotes most of his time to his family; he has a fifteen-year-old daughter and two eleven-year-olds, a girl and a boy. "I also make an effort to find time for regular exercise. I play tennis, and golf in the summer."

Mänty hails from Rovaniemi, but now calls the seaside Jollas area of Helsinki home. He holds a master's degree in economics, with a focus on international marketing, from the Turku School of Economics.
Mänty's work as the head of a movie theatre company has not diminished his free-time interest in the art of moving pictures. Other media-related interests include books and regular visits to the theatre and opera. "I also strive to be a good cook and develop my skills as a gourmet, which has proven a long and winding road," Mänty adds.
Download high resolution picture