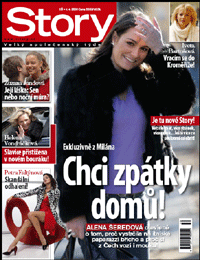 A much bigger format, more pages, new sections, very modern graphic design, and last but not least a new logo. These are the main ingredients of the new Czech 'glossip' weekly Story, which will be re-launched on the Czech market on Monday 7 April 2008. Glossip stands for gossip in a glossy format and the new Story will offer exactly that!
The renewed Czech Story is based on the Croatian and Serbian editions which both have proven to be very successful in recent years. With its warm and friendly approach, Story introduces a glamorous and celebrity inspired style section, including fashion, beauty and lifestyle. Story should distinguish itself from the crowded tabloid segment and attract new readers and especially advertisers.
Sanoma Magazines Praha (SMP) is part of Sanoma Magazines International and one of the leading publishing houses in the Czech Republic. SMP publishes over 20 magazines such as Vlasta, Kvety, Story, Dum a Zahrada ('House and Garden') and National Geographic. SMP is also active in digital media. Its websites like eStranky.cz, Tvujdum.cz and Kuchyne.cz are among the most popular in the country.
Sanoma Magazines International, located in Amsterdam, the Netherlands, is a business of Sanoma Magazines. Sanoma Magazines is one of the largest consumer magazine publishers in Europe. The company publishes more than 300 magazines in thirteen different countries. Sanoma Magazines International is responsible for Sanoma Magazines' activities in Central, Eastern and South East Europe. Apart from developing its strong portfolio of magazine brands for various reader communities, Sanoma Magazines is expanding its business to other media platforms, with a clear focus on interactivity. Sanoma Magazines is part of the SanomaWSOY Group, a strong European media group operating in diverse fields of media in more than 20 countries.