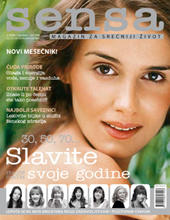 Adria Media Serbia has launched a new women's magazine called Sensa. This modern monthly glossy covers topics related to women's health and beauty, promoting a healthier and happier life.
Sensa offers inspiration and advises how to live life to the fullest. It always looks for the deeper sense of meaning and the quality of life. Key words are Health, Beauty, and Psychology.
Sensa's core readership consists of women between 20–50 years old, who are curious and in constant search for inspiration. They are urban, educated women who wish to have a balance in their life. They know that to feel great is to look great.
Adria Media Serbia, is a part of Adria Media Holding (AMH) which operates in Serbia, Croatia and Slovenia. AMH is a 50-50 joint venture between Sanoma Magazines International and Gruner+Jahr. AMH publishes 39 magazines and employs around 370 people.
Sanoma Magazines International is responsible for Sanoma Magazines' activities in Central, Eastern and South East Europe. Sanoma Magazines is a division of the SanomaWSOY Group.