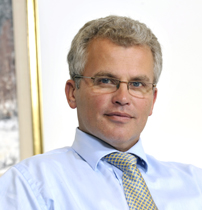 Kim Ignatius, SanomaWSOY's CFO (Chief Financial Officer) from the beginning of August, is bursting with energy. Internationally experienced Ignatius has now returned to Finland from his latest expatriate position as CFO and Executive Vice President of TeliaSonera in Sweden. He is happy about his new responsibility.
"The media industry offers new kinds of challenges, which, however, are linked with the telecommunications industry, as media is going digital. SanomaWSOY is an interesting company with an excellent reputation. I have always liked multinational tasks, and the international growth of SanomaWSOY is at a very interesting stage," Kim Ignatius says.
Internationalisation entails many cultures
In Finland, Ignatius has always had a home near Helsinki. Raised in Kauniainen, he now lives with his family in Espoo. As well as Finland, Kim Ignatius has worked abroad for a long time. A total of 14 years have passed working in Canada, the USA and Sweden. During those years he has gained extensive international expertise and the willingness to work in a multi-cultural environment.
"Perhaps the most important lesson I have learned from multi-cultural environments is that you should not try to shape the company according to just one culture; instead, it has to adapt to internationalisation and many different ways of operating," Ignatius reflects.
Support from top management is important
Besides financial matters, the Group's new CFO has taken charge of administration, communication, investor relations and ICT matters. "As a whole, the tasks form a different entity than the ones I previously have managed. I am interested in the combination, and I want to learn new things. Although some of the things are new, nothing is completely unfamiliar. I believe that the new work, compared to my previous tasks, is also more hands on, and that has already given me a real buzz," Ignatius says.
In addition to the Corporate Centre Management Group, Ignatius also is a member of the Group's EMG, Executive Management Group. "Increasingly, the role of the CFO is changing from managing financial matters to supporting the top management and strategic planning. The CFO is also an important sparring partner for the CEO," he says.
Dream profession
Kim Ignatius recalls how he dreamed of a career in the busy business world as a child. "My father has a degree in Economics and Business Administration, and even as a schoolboy, I was interested in studying business or law. In the end, the Helsinki School of Economics was my choice and I graduated with accounting as my major."
Also in his leisure time, Kim Ignatius likes to count: the ski slopes he has done, the beat to the music or the score on the golf course.
Family is also important for him, and he loves to spend his free time travelling abroad with them or relaxing at their cottage in Finland.