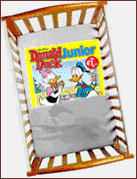 Sanoma Uitgevers has launched Donald Duck Junior in the Netherlands. Donald Duck Junior is just as cheerful as the original Donald Duck. The new magazine is geared towards readers who are too young for the 'regular' Donald Duck.
This 'Donald Duck for beginners' contains less text in the text balloons and the language used is easier to understand. The pictures are clearer and the letters used are bigger, making it easier to read.
Donald Duck Junior will appear every two weeks and is available in stores from August 22 onwards.
Sanoma Uitgevers is part of the SanomaWSOY Group's magazines division, Sanoma Magazines.