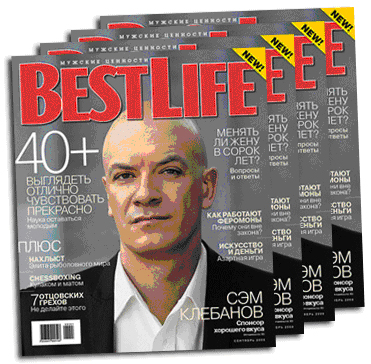 Independent Media, a part of Sanoma Magazines, introduces a new magazine to the Russian market: Best Life. Best Life is a first class lifestyle guide for successful men who love life. The first issue will hit the newsstands on 2 September 2008. Best Life will be published ten times a year, with an initial print run of 103,000 copies.
Best Life is a men's magazine dedicated to family, health and career. The magazine helps readers find a balance between work and leisure. Best Life readers believe that life gets better when you know more, not when you have more. Stunning pictures, interesting topics and high quality journalism make Best Life a perfect guide to a world where money and time are spent in the wisest of ways.
Best Life was first published in the USA in 2004 and in 2008 its circulation has grown to 500,000 copies. Next to North-America, Best Life is published in the Netherlands, Spain, South Africa and Portugal.
Independent Media is part of Sanoma Magazines, the magazine division of the SanomaWSOY Group.