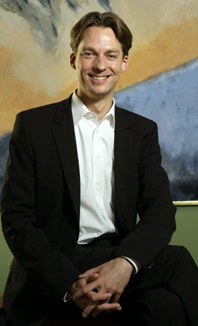 "It's a unique opportunity to play a part in further developing this strong media company. The increasing digitalisation of the media as well as the increased internationalisation of the company will be two extremely interesting aspects of my work," says Sven Heistermann, the Group's new Chief Strategy Officer (CSO), who started in his new position at the beginning of August 2008.
A Group of opportunities
Heistermann has already been intensively studying the Group since mid-May. "Taking the time for meetings with almost all key managers across all Group divisions really proved to be a great way to get to know people and dive into the business," he says.
"After all these discussions, I'm convinced that we have an attractive portfolio of good businesses with plenty of opportunities. However, we will also have to define clear strategic roadmaps. The changing needs and behaviour of customers and their media usage will always challenge us to find new ways of delivering our high quality products and services," Heistermann defines.
Change keeps you going
Heistermann, now 35, spent his boyhood in a tiny town called Blomberg in the northern part of Germany. After finishing school, Heistermann left Blomberg to study industrial engineering and management at the University of Karlsruhe. His studies also included one year in Boston, after which he moved to Munich to work for Booz Allen Hamilton, a leading management consulting firm.
The best strategic decisions have, in Heistermann's life, been related to change. "You can't let yourself get used to the way the things are. It was a good decision to move to Karlsruhe to study and it was a good thing to spend one year abroad. I've been very satisfied with my time in the consulting world – the couple of years I had planned to be a consultant turned out to be almost ten. Now I'm really curious to see what will change when working for SanomaWSOY," Heistermann says.
Travelling and sports fill free time
Even though Heistermann packs his suitcase often for business trips, he still loves travelling in his free time. Whenever he has an opportunity, Heistermann enjoys exploring new countries and cultures.
"In winter, I like to go downhill skiing, which was also one of the reasons to choose Munich as my home ten years ago. In addition, I like playing tennis a lot and I hope I will have more opportunities to play than lately," says Heistermann, describing his free time activities.