The recently re-launched magazine 'Sedm' has been awarded 'Star of the Year' at this week's annual award ceremony of the Association of Publishers in the Czech Republic. The innovative concept, the modern graphic design and the thought provocative content motivated the jury to choose this relatively new brand on the crowded Czech magazine market as 'the big winner'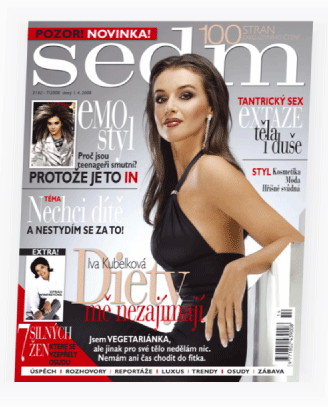 in its category.
Bi-weekly Sedm has almost doubled its sold circulation since its relaunch in the beginning of the year. Sedm, published by Sanoma Magazines Praha, is targeted at busy, urban women between 25 and 35, and combines typical women's topics like fashion and beauty with highly emotional, compelling and topical stories. Especially the magazine's clear navigation and sectional approach has been well received among readers.
Sanoma Magazines Praha publishes over 20 magazines and has several websites. It is one of the leading publishing houses in the Czech Republic. It is part of Sanoma Magazines International, responsible for the magazines operations of the SanomaWSOY Group in Central, Eastern and South East Europe.