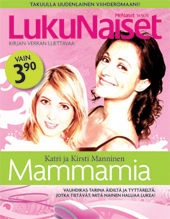 WSOY and women's weekly Me Naiset will launch a magazine that contains one complete novel in a fast-to-read format. Book in magazine format is a new reading concept in Finland.
"WSOY's and Me Naiset's common goal is to make reading as easy as possible. The concept h as been extremely polular in the Netherlands, where Sanoma Uitgevers has already made a similar publication," says Elina Ahlbäck, WSOY's Senior Vice President, Sales and Marketing.
"The new product is a book but it looks like a magazine so it will be easier to buy than an ordinary book," describes Me Naiset's Editor-in-Chief Riitta Pollari.
For WSOY, LukuNaiset is also a new and innovative distribution channel. "The new format will take books close to our biggest target group, women. The format may also persuade new novelists and offer the existing ones new channels to tell their stories," Ahlbäck sums up.
WSOY is the leading book publisher in Finland. Me Naiset is published by Sanoma Magazines Finland. Both are part of SanomaWSOY Group.