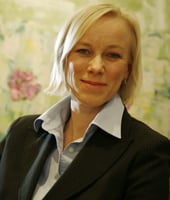 Tapio Kallioja, President of SWelcom since its establishment in 2000 will retire on 31 March 2008, according to his contract of employment. His successor is Anu Nissinen, President of the cable television operator Welho, a business of SWelcom. She will assume her duties on 25 February 2008.
"I will take on my new assignment with enthusiasm. The new position provides a unique view of Finnish media world," says Nissinen. "During the last few years, SWelcom has accomplished a lot. Our five TV channels and two radio channels, the Welho's network and extensive service range give us an opportunity to develop new, interesting products and services," says Nissinen.
"Anu Nissinen has good experience and can provide excellent evidence of leading profitable operations and operational development. I have deep confidence in her ability to lead SWelcom now and in future challenges as well," says Hannu Syrjänen, President and CEO of SanomaWSOY.
Synergy with the customer in mind
According to Nissinen, President's responsibility is to find synergy within the Division and to keep up with progress in electronic media, while listening to the customer. "The challenge is finding the best way of translating the new technological opportunities to the benefit of the customers. New products and services must be technological pioneers, but also easy-to-use," Nissinen explains.
"Nelonen and Welho are joined in SWelcom, the first of which is Finland's third-largest medium in terms of advertising sales, and the latter is the country's leading cable television company. In addition, we provide consumers with experiences via the radio, online and mobile connections. All of these have their own distinct characteristics, but they all provide high-quality content to a target group that is more and more scattered," says Nissinen. "This is a time of change where consumers are becoming more and more selective in how they use their time. Even though online communities have quickly become more and more popular, I believe that the great stories and phenomena provided by the media will always remain interesting."
According to Nissinen, the future plans at SWelcom include increasing co-operation and the planning processes for new services and product solutions. "For Nelonen, this could mean that the synergy of TV and online services will be improved, and for Welho this could mean even faster broadband connections and new services that suit them. Online gaming is also a new and interesting business area."
A heavy user of media who relaxes by doing sports
Anu Nissinen, M.Sc. (Econ.), 44, has worked for SWelcom since 2001.
Anu Nissinen has two teenage sons, and her leisure time mostly involves sporting activities. "The whole family enjoys downhill and cross-country skiing, and we have personal sporting activities as well." In addition to sport, Anu Nissinen engages in family association activities. "We record the stories of our Karelian family and arrange family events."
Nissinen confesses to being a heavy user of media. "I read the news online, and primarily seek entertainment from the television. My favourite TV shows can be found on Nelonen: Lost is number one, and Grey's Anatomy is also good. I also enjoy watching films and cooking shows on various channels."
Download high resolution picture