On the outside, Esmerk Information's office in the centre of St. Petersburg appears to be from the age of the tsars, but the business building inside is fully renovated and modern. In the space of twelve years, both Russia and Esmerk have changed completely.
Established in Finland in 1975, Esmerk has offices in Finland, Great Britain, Sweden, Malaysia, France, Germany and Russia. More than half of Esmerk's rapidly grown turnover is generated from outside Finland. The company has customers in about 30 countries. Esmerk's corporate information services track more than 1,500 information sources, such as business dailies and trade publications, websites and press releases in about 130 market areas. The information is summarised, shortened, translated and delivered to customers according to their wishes.
Esmerk's business information services in Russia covers more than 150 daily newspapers, business dailies, and trade publications. The product range includes tailored current awareness, tracking of public image, competitor tracking and an international databank. Competition in the field has become more intense. A lot of new actors are involved: tracking companies, news agencies and Internet portals.
Correct information in the right format
"Our operations began three years after the collapse of the Soviet Union. At first, our small office collected local news for international customers," says Yekaterina Levochskaya, Managing Director of OOO Esmerk Information.
Levochskaya has studied journalism as well as economics both in Russia and in the U.S. She left to study in the U.S just days before the Soviet Union collapsed. "When I returned for a summer holiday a year later, I came back to a completely different country, a total chaos. The old system had not crashed completely, but nobody cared about it any longer. The new administration had not established itself yet," she describes.
According to Levochskaya, international business was interested in the Russian market from the beginning. "International companies were interested in Russia, but they were not aware of how to operate here or what was happening here. Esmerk functioned as the customers' window into Russia".
"It has taken many European countries years to arrive at this stage. Nowadays the situation is completely different from before, when laws and bureaucracy made operation more difficult. People have changed too. It is easier to meet with people and they are more open," Levochskaya says. "Our customers sometimes ask how they can trust the information published in newspapers. However, we do not issue any recommendations or draw up forecasts or analyses of what has been written. Our job is to find the correct information, put it in the right format and pass it on in the right way to the right people."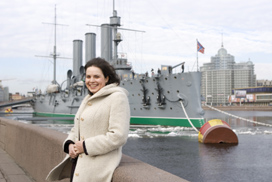 From small family company to part of international Group
The development of the Russian economy made more and more companies interested in the country. Gradually, Russian companies too started to experience a need for the services provided by Esmerk. "At present, about half of the customers of Esmerk are companies operating in the domestic market. The 'grapevine' has proven to be an effective sales channel."
Esmerk was acquired by Sanoma in 1998. The change from a small family company to being part of a large internationalised group has been significant for Esmerk. A development plan was published at the end of 2005, which doubled the personnel in current awareness and increased the sales resources. More people are being recruited for the St. Petersburg office, which currently employs 25 people, and a big marketing campaign is in progress.
"Being part of a large communications group has given us credibility, especially after SanomaWSOY acquired the publishing company Independent Media in Russia. Our current development plan would not have been possible without Sanoma," says Levochskaya.
There is no clear market leader, but Esmerk occupies a solid and reliable position in the country. Driven by the Russian economy, the growth rate of corporate information services is on the order of 20%.