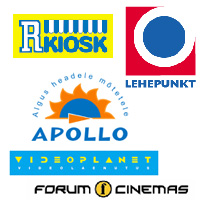 All Rautakirja businesses – kiosks, press distribution, bookstores, and movie theatres – also operate in Estonia. The brands are very visible on the streets of Tallinn: R-kiosks, movie rental stores of Video Planet, and Apollo bookstores can be seen everywhere and the logo of Forum Cinemas shines brightly in the city centre. Press distribution company Lehepunkt can be seen in all hypermarkets. This autumn has seen both the opening of a new Apollo bookstores as well as a new rental shop of Video Planet.
Apollo bookstores expanding
Tallinn's third Apollo bookstore, opened in September, is situated in the largest shopping centre of the city. In addition to normal wide selection of Estonian literature, this outlet in Ülemiste has a broad range of Russian literature. "Nearly half of our customers are other than Estonians so this was a strategic solution. Our selection is probably the best in town," says proudly CEO of Apollo Arvo Pihl. A lot of the customers in the store are e.g. families visiting the shopping centre and they are prone to make impulse buying decisions. Therefore the display comprises more children's literature and entertaining books, among others.
Natalja Matsina has worked for Apollo since October 2000 and transferred to the new outlet from the flagship store in the city centre. "In central Tallinn, Apollo's customers are mainly literature enthusiasts who know what they are buying when they come into the store," Natalja Matsina compares the two stores. Differences in customer profiles bring new challenges to her position as shop manager.
Another challenge is offered by the stores location in a shopping centre, where books also are sold by supermarkets. Arvo Pihl sees that the broader and more specialised selection brings a competitive advantage to Apollo. This is also what separates Apollo from its Finnish sister company, Suomalainen Kirjakauppa: Apollo has very small offering of office supplies or magazines.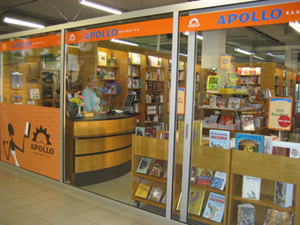 In addition to the Apollo store in Ülemiste, another outlet was opened this year in Pärnu, and Apollo people are already planning to expand it. New outlets are planned for 2007 as well. The latest store in Apollo chain: Pärnu's new bookstore was opened in September.
Video Planet moving along with its customers
While all Rautakirja's movie theatre operations in the Baltic countries were combined under the brand of Forum Cinemas, also the V&K Holding, which rents and sells movies to consumers, changed its name into Forum Cinemas Home Entertainment. The company has 50 Video Planet stores in Estonia, of which 20 in Tallinn, the latest opening being in Lasnamäki, Tallinn. Like in the Apollo outlet in Ülemiste, Video Planet in Lasnamäki benefits from having a large selection of movies in Russian. Being bilingual is a key in area where the majority of customers are Russian-speaking. Luckily the DVD technology enables the customer to choose the language of the moving him/herself so that the store doesn't have to carry a double selection.
Also Video Planet has noticed the benefits of being located in a shopping centre, and new stores are planned in these or in connection with large hypermarkets. This year Video Planet will open one new outlet, and at least three more are planned to be started next year outside Tallinn. Forum Cinemas Home Entertainment also distributes movies, so the other stores are its customers, not competitors. "Retailers sell the videos we distribute and get their commission on the sales," explains Development Manager Mauri Kristjan Dorbek.