Suomalainen Kirjakauppa launched its long expected loyal customer program in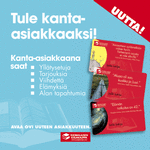 January. - The program has begun really well, says Pirjo Purovesi, Marketing Director of Suomalainen Kirjakauppa.
- We have had a customer register for almost ten years now. These customers have received mail2 to 3 times a year, mainly invitations to pre-sale. In November 2004 we invited people to loyal customer evening to do their Christmas shopping for the first time, explains Purovesi.
14% of Finns are heavy book users
- Already the first weeks in January have shown that there is a lot of interest for our program, Purovesi says.
Suomalainen Kirjakauppa seeks to achieve those 14% of Finns who buy more than ten books a year. These people also buy some 50% of general literature in total according to Suomi reads (Suomi lukee) survey.
- We hope that we can commit these people to Suomalainen Kirjakauppa and also increase visits in our bookstores and Suomalainen.com web store, Purovesi says.
Experiences for heavy users
Membership of Suomalainen Kirjakauppa's loyal customer program includes letters from Suomalainen 6 to 7 times a year and quarterly organised customer events "writer quests". Later on bonuses related in the amount of books bought are planned. - Our loyal customer program does not give discount on everything but we want to reward the real heavy users, Purovesi says.
Suomalainen Kirjakauppa wants to provide experiences for its loyal customers. - Suomalainen will for example offer the members some books exclusively, Purovesi describes. In the future, members of the program will be able to participate in theme holidays and other events. They are also offered signed exemplars as well as special prices on Suomalainen Kirjakauppa's partners' products and services.
The membership is offered for those interested in books and visiting Suomalainen bookstores often. - Most of members joined in January have become interested in our program after seeing the ads in our stores. Also we have been contacted quite a lot via internet.
For more information about the loyal customer program see : http://www.suomalainen.com/sk/