Nelonen is showing several programmes in spring 2005 that are made in Finland but based on international programme formats. Format purchaser pays for the right to make a programme, and the format licensee gives him a format guidebook containing detailed instructions for making the programme.
- A format is an idea, a concept, which has been designed so that it can be reproduced with the same content for different markets considering the local culture, says Markus von Reiche, Head of Domestic Programmes at Nelonen.
Competition for formats
Big international producers and production companies are the place to look for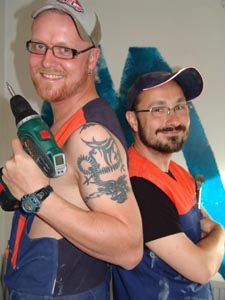 formats. In autumn, there are Mipcom and Miptv programme markets in Cannes where the production companies have the chance to present their drama series and different programme formats.
- We usually study in advance what kind of programmes Nelonen would need and what time they should come out. Selection is also influenced by current trends; we consider, for example, what kind of formats are popular right now, says von Reiche. But programme manager always needs to be open for new and fresh ideas.
There are several ways to acquire a format. The channel can buy the programme rights from an international licensee, and select a suitable production company. Alternatively, the channel can establish cooperation with a production company that owns the format and the licence.
There is keen competition for formats among the commercial TV channels in Finland. The winner is the one who succeeds in negotiations with the licensee, and there is no clear recipe how to win. - Important factors are, for example, speed, licensee's opinions, the channel's image in relation to the licensee's image, and, of course, money, lists von Reiche.
Local culture needs to be considered
Various aspects need to be born in mind when making a purchasing decision. The purchaser has to consider whether the format is really good, or is it just a programme with a good idea behind it. The difference between a format and a good programme is that for the format, the different parts have been structured precisely and the instructions for making a programme usually are laid down in a format guidebook.
The decision also depends on the success of the format. - We are mostly interested in formats that have proved to be good on some markets. So we know we are buying something that really works, says von Reiche.
Money certainly plays a role: the money to be paid for the right to make a programme, and the money to really make it. - I think the American series Amazing Race on MTV3 is an excellent format but so expensive that we hardly could make it in Finland, judges Reiche.
Local culture needs to be considered as well: a success story in the US does not necessarily work for Finland. - When choosing a format we have to think whether the themes are taboos in our culture, or possibly otherwise hard for the viewers to accept. On the other hand, some topics can be totally uninteresting in our culture.
Formats are to stay in Finland
It depends on the format how much the purchaser can adjust the programme to match the local culture. 'Who Wants to be a Millionaire'is a ready-made package which is created exactly according to the format, even the breaks are where they are said to be.
- Most formats are rather free today and there are many things that can be changed or differently accentuated. Good examples for this are 'The Block' shown at Nelonen last autumn, and 'Under Construction',which is to start during this spring, says von Reiche.
- A rather free format is good for us as Nelonen wants to be active during the planning and making of programmes. We would like to have a say to get a result which is in line with our channel image, says von Reiche.