Oikotie, classified online service that specialises in car, housing, and employment advertisements continues its growth. Oikotie's net sales has improved remarkably and the amount of visitors increases fast. At the same time also the variety of Oikotie services also broadens.
Oikotie started its operations in 1999 as a free classified service in the internet. In 2002, Oikotie started to sell advertisement space for advertisers. Oikotie's business is based on cooperation with seven leading Finnish dailies, and it provides a joint marketplace of cars, housing, education, employment, and travel both online and in print. Oikotie is part of Helsingin Sanomat Oy organization but the service also includes Turun Sanomat, Etelä-Suomen Sanomat, Hämeen Sanomat, Etelä-Saimaa, Kymen Sanomat, and Kouvolan Sanomat.
- Oikotie brand is well known in the internet but the seven member dailies publish their printed housing, car, and employment advertisements also under the same brand. In newspapers, Oikotie brand is probably less well known but we are continuously working on that, says Vice President Jukka Haapalainen from Oikotie.
In Oikotie's business model, advertiser pays for advertisement. - Our advertisers are mainly companies recruiting personnel, selling cars or residence. Also consumers can sell their cars or residence in Oikotie, Haapalainen says.
Oikotie has some 190,000 unique visitors weekly and the number is growing yearly with some 50 to 60,000 new visitors. All Oikotie advertisements, more than 50,000 in total, can be browsed free of charge.
Tougher competition
- The competition in classified ads market is though, says Haapalainen. At the moment Oikotie's biggest competitor in Finland is Alma Media. According to Haapalainen, it is only a question of time before the big international players like Ebay and Google enter the Finnish market. In the future, the competition will be even tougher.
Oikotie constantly seeks new ways of doing business as well as new business ideas to survive also in the future competition. Oikotie's aim is to be the leading Finnish classified ad provider in the internet.
Travel section extends the service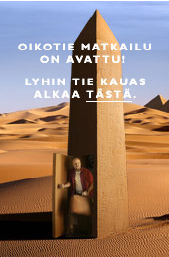 In January 2005, Oikotie started a new service, Oikotie travel. The section includes articles related to travelling as well as information about holiday destinations, cruises, and flights. All big travel agencies and airline companies are included in the service.
- The goal of Oikotie travel is to offer a wide range of choices for people seeking online information about travelling, defines Haapalainen. - Our currect aim is to familiarise Oikotie users with our new brilliant service.
Matkaopas (Travel guide), a magazine of Sanoma Magazines Finland, which also is a part of SanomaWSOY Group, provides the articles for Oikotie travel. Oikotie also works in close cooperation with Helsingin Sanomat and Sanoma Lehdimedia's dailies Etelä-Saimaa, Kymen Sanomat, and Kouvolan Sanomat. - I believe that SanomaWSOY Group offers us many interesting opportunities for cooperation also in the future, Haapalainen concludes.