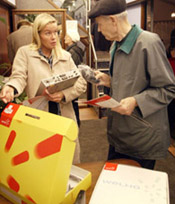 Fixed and high-speed internet connection seems to become a part of the basic infrastucture of every Finnish home, believes Marketing Manager of Helsinki Television Jyri Ratia. HTV's Welho broadband internet was the first broadband internet service for households in Finland and its popularity is still growing.
- Welho broadband can be used, if the household is connected into HTV's cable network. No other installation is needed. You can buy a cable modem from our shop, and sign an agreement with Welho. After that, just plug the modem in and start using the broadband, Ratia says.
HTV opened the first broadband portal in Finland, Welho, to its customers in December 2000. - In the beginning customers were mostly young, technically oriented men. We've tried to support the expansion of our customer base by building different broadband connection solutions for different types of customers, Ratia says.
Different customers with a wide range of needs
According to national broadband survey, Welho's customers are the most satisfied compared to other operators (TNS Gallup 10/2003). Welho is the market leader in its market areas in Finland. At the end of 2003 its broadband connections totalled 43,000.
Nowadays the customer base has expanded significantly and it includes young as well as elderly people, singles, families, couples, high class, middle class etc. The needs of these target groups differ and according to Ratia it can be seen also in their future expectations.
- Broandband internet is used, now as well in the future, for seeking information, buying content (such as movies or music), communication services, and different types of household management and security services. The importance of content will grow when digital cameras and digital videocameras become more wide spread.
Speed, reliability and price play the main roles
The basic criteria for broadband internet have not changed during years. According to Ratia, the speed, reliability and price are still the most important factors in decision making. The customers are demanding more reliability and quality connections.
- Broadband internet will become a natural part of basic infrastructure of every home like electricity and water are today. The penetration is growing faster than that of mobile phones grew in the past but the speed will smooth in a few years because of the price of the equipment is still quite high.
- In the future the broadband services will be built on fixed and fast connection. The range of broadband traffic will widen: speech, picture and data enable more versatile charged services and contents. Really important in paid contents are quality, security of use as well as development of user experience.
Future challenges
The future of broadband internet includes also challenges. - As a negative challenge one can see the problems that the increasing amount of waste material and security aspects have caused.
- The future challenges of broadband internet include e.g. building of simple and easy to use solutions for different types of user groups as well as development of services and other content for different channels. At the same time, we have to keep up with the evolution of broadband equipment.