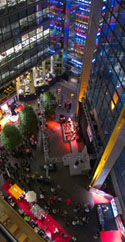 Ilta-Sanomat's sports editors and tv channel Nelonen' Sports News have joined their forces. The very first IS Sports News was broadcasted live from the Sanoma House on Sunday, 29 February.
- The feeling is now in a way very relaxed, the premier is over. The cooperation is smoothed, now begins the everyday life. One cannot feel too relieved because it is going to be hard work from now on, says Ilta-Sanomat's Managing Editor Antti Virolainen.
- The gala in Sanoma House was festive and unlike in many ways. Today also the broadcasts are getting back to normal and to the Nelonen's studios. At the same time we are going to start the short peeks into Ilta-Sanomat's Sports editor desk within the broadcasts, Virolainen explains. - Nelonen is an expert in technical matters, inserts and international screening. We provide the news, the perspective. That is Ilta-Sanomat's strength, he describes.
- This is a great leap for us as well as for the Finnish media as a whole, says Nelonen's Chief in Sports News Jorma Paakkari. Same type of cooperation has previously taken place mainly in financial news.
From now on the aim is to offer something new for the viewers - something that they do not expect from the sports news on TV. IS Sports news is going to offer sports results but also hardcore news.
Voluntary cooperation
Ilta-Sanomat and Nelonen will carry the new broadcasts out in close cooperation. IS Sports brand gains visibility on TV while Nelonen gets more employees. IS Sport News' content is produced by Finland's largest sport editorial office, IS Sport together with the sports editors of Nelonen. Nelonen's reporters will continue to read the news in their own, vivid fashion.
- First and foremost I'm expecting expertise to grow in our broadcasts. It will be really interesting to hear, for example, what an editor who has totally concentrated on British football says about a match, says Kirsi Alm who has been reading Nelonen's sports news for two years.
Repeated crime
The every-day schedule will not change much at IS Sports or Nelonen. Ilta-Sanomat's head of news chooses together with Nelonen the news subjects that are going to be followed during the day. When a journalist goes for the news, she/he also calls Nelonen's cameraman.
- The IS journalist gives his/her material to Nelonen where it is modified for TV. Here in office we have to change our way of thinking. The news has to be given out already in the evening. Previously this would have been a major crime but now we have a particular broadcast for this purpose, Virolainen says.
No opposition
Belonging to the same group of companies is essential for cooperation but Nelonen and Ilta-Sanomat are a great couple also in other ways. - The channel is youthful and interested in the same sports as we are, Virolainen says.
It is difficult to tell an accurate starting date for the project; It has taken approximately a year so far. Enthusiasm has grown on both sides when the due date has come closer.
- I'm surprised that there has been no resistance, says Virolainen. Nelonen's Paakkari also assures that the atmosphere is high. - External feedback has been only positive so far. The reform is considered reasonable.
For TV-viewers, the reform gives more than there was before it. There are no losers at this time. The only wonder is why this hasn't been done before.

Text: Samuli Pulkkinen and Tiina Tuomainen
Picture: Samuli Pulkkinen